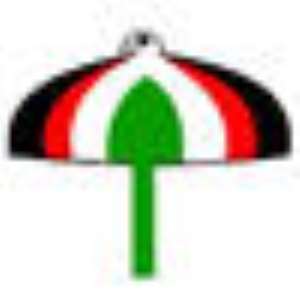 Accra, 23, March, GNA - The United Kingdom-Ireland Branch of the National Democratic Congress (NDC) on Tuesday donated 10 fax machines valued at 17 million cedis to the National Executives of the Party to improve its communication operations.
The donation, made at the National Secretariat of the Party in Accra, was in response to a request made by Dr Obed Yao Asamoah, National Chairman, when he visited the NDC family in the UK and Ireland two years ago.
The items would be distributed to the 10 regions of the country to enhance intra-regional communication.
Making the presentation, Mr Alexander Segbefia, Chairman of the UK-Ireland Branch of the Party, said the branch was committed to the activities of the Party and would liaise with it to ensure victory in Election 2004.
Dr Asamoah lauded the Branch for fulfilling its pledge made to him when he visited them and pledged that the items would be put to good use to ensure victory in the elections.
He said there was every indication in the country that the NDC was going to win the elections, adding that with the cooperation of Party members abroad, the morale of the Party towards the elections was high.
Dr Josiah Aryeh, General Secretary of the Party, said the Government had on several occasions attempted to manipulate the Electoral Commission (EC) and cited the decision to register people outside the country to participate in the forthcoming elections as an example.
He wondered why the Government could not allow for a level playing field for all the parties to contest as was done by the NDC in 2000, which led to the victory of the New Patriotic Party (NPP). Dr Aryeh said the NDC would ensure that the right thing was done to guarantee equal opportunities for all the political parties.