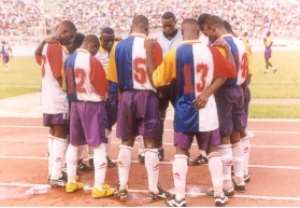 Latest result: Hearts 2 Stade Malien 0 0 A Gigantic test of character awaits African championship aspirants, Accra Hearts of Oak, in a nervous match against Stade Malien at the Accra Stadium on Sunday.
While team officials split their hair over the right strategy and motivation to ensure victory on the field, they still would have a big off-pitch duty to ensure calm heads in the stands.
Hearts' march into the next stage of the competition has been bolstered by a scoreless draw result from the first leg encounter, as the Phobians have what appears a less daunting task on home soil.
And amid reports of physical attack meted out to some Hearts players and officials in Bamako by irate supporters of Stade, there is a certain degree of pent-up anger and a spirit of retribution in Hearts fans.
Hearts officials have gone to various lengths to douse the burning fire in their supporters and rally them to throw their full weight behind the team on Sunday. That horrific tale has further fuelled the feeling of vengeance as the Phobians see this opportunity as payback time for the Malian champions who eliminated Hearts from the Champions League two years ago.
On Sunday as Hearts German coach Ernst Middendorp crafts a winning formula, he would field a team largely made up of players who were not part of the 2002 squad, and yet have been tasked to exact a measure of revenge.
Although Hearts have been tipped to ride on their territorial advantage, Stade's gutsy performance in a 1-1 drawn game in Accra two years ago offers useful lessons for the Phobians to tread cautiously. Perhaps, a testimony of a potential banana peel in Hearts' path was amply demonstrated in the first leg match in Bamako two weeks ago.
Since taking over the reins of Hearts, Middendorp has gradually raised his team's confidence and injected a lot of discipline in the playing body. It is with that confidence that Hearts are determined to put the brakes on Stade this time.
Middendorp says he expects veteran strikers Emmanuel Osei Kuffour and Lawrence Adjei to assume the role of 'generals' in combat, directing affairs on the field, with their team-mates working hard as soldiers on a battle front.
This time, though, the Phobians cannot afford to throw away scoring opportunities like they did in Mali. A winning combination of razor-sharp attack, a rock-solid defence and strong and mobile midfield are what the thousands of Hearts supporters expect their technical team to churn out.
Strikers Bernard Dong-Bortey and Adjei should provide attacking options from the flanks, while Kuffour and Ablade Morgan should serve as target men at the heart of attack.
Middendorp needs to plug the loopholes in his defence as the absence of suspended skipper Amankwah Mireku would provide the team defensive challenges that must be addressed if Hearts must put the brakes on Stade attackers and progress to the next stage of the competition.