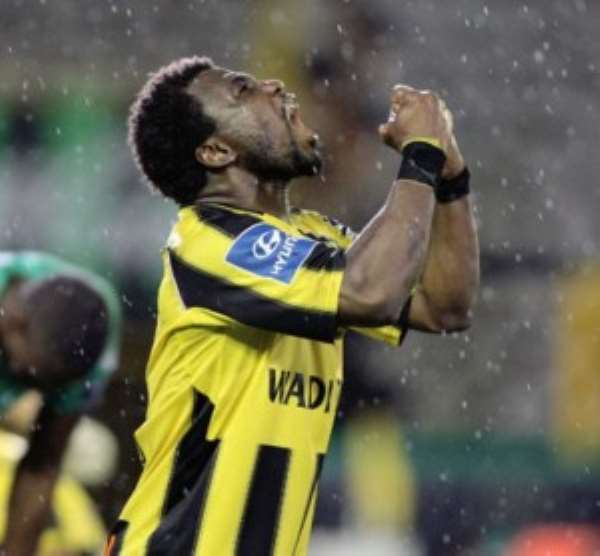 Rahim Ayew says Zamalek are too broke
Ex-Zamalek midfielder Rahim Ayew says the Egyptian giants are too broke to pay 1.2 million Euros to former Black Stars striker Junior Agogo following FIFA's order to pay the Ghanaian striker his outstanding wages.
Ayew, who played for the Egyptian giants two years ago, says he had forgo his outstanding salaries with the club by cancelling the contract to move to Belgium.
Agogo left Zamalek under controversial circumstances complaining of unfair treatment and intentional dismissal after the Egyptian cancelled his contract without paying the sum involved in his outstanding salaries and remainder of his contract.
Ayew, who recently signed for Kotoko, blames Zamalek's decision not to settle the outstanding salaries due Agogo on the Egyptian club's low financial standing.
"Zamalek has to pay Agogo but they don't have money that is the main reason why they don't want to pay Agogo. Even I could take Zamalek on," Rahim Ayew told CampioneSports.
"Zamalek has to pay me some money but I didn't want my case to become like Agogo's issue where after he left Zamalek he had some problems at other clubs because of his ITC (International Transfer Certificate) so I left to Belgium and cancelled the contract."
Zamalek have filed an appeal at the Court of Arbitration for Sport against the order from FIFA's Dispute Resolution Chamber to pay the 34-year-old Agogo for his services rendered to the White Knights between July 2008 and August 2009.
Rahim Ayew played for Zamalek between 2009 and 2010 before joining Lierse SK in the Belgian top flight.