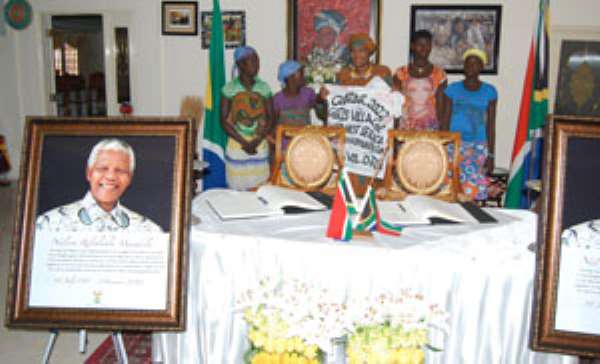 Jeanette Ndhlovu in a pose with some of the street girls.

Director of the Qatar 2022 Girls Project, Yahaya Alhassan, has expressed deep condolence over the death of former South African leader Nelson Mandela to the South African High Commissioner to Ghana H.E. Jeanette Ndhlovu.
According to him, the continent had lost an illustrious son whose exemplary life and service to Africa for decades was immeasurable and worthy of emulation by all.
In a letter issued and signed by Mr Alhassan, the project stated, 'Ms Ndlovu has been an imminent campaigner for our Street Girls programme. We are with you and the South African people in this moment of sorrow.''
The statement described Mandela as an epitome of peace.
The Qatar 2022 Project is using the 2022 World Cup as a tool of empowerment for young girls in Ghana, particularly the Northern Region.