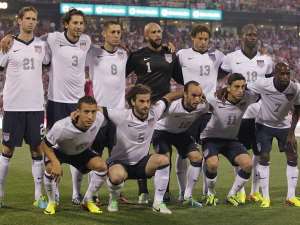 Team USA
Friday's World Cup 2014 draw was wildly panned by fans of the United States Men's National Soccer Team (USMNT), as the team was selected into the foreboding "Group of Death" alongside Ghana, Portugal and Germany for June's world championships in Brazil.
The matchups alone are enough to give fans apprehension—Ghana, the nation that's eliminated the USMNT from the last two World Cups, alongside perennial powerhouse Germany and Portugal, who feature one of the world's best in Cristiano Ronaldo. But the conditions in which the USMNT will play their games offers equal cause for concern.
Over the course of 12 days, the team will travel over 9,000 miles for their three games—more than any other World Cup squad. What's more, the second of the three games—against Portugal—will be played in Manaus, in the heart of the Amazon rainforest.
Concerns about the conditions have already caused enough uproar to cause the game to moved from 3 p.m. to 6 p.m. local time—out of the worst heat of the day—but this game promises to provide the USMNT with their stiffest test, in terms of conditioning.
"It's going to be difficult—for both teams," says Justin Shaginaw, MPT, ATC, who's worked extensively with the USMNT. He traveled to South Africa for World Cup 2010.
"Most of Portugal's players are playing professionally in Europe. They're not accustomed to that climate either. If they were to be playing against a South American country in that environment, the South American nation would have an advantage because of their familiarity with the climate."
Shaginaw adds that people can't focus on the environment in Manaus as the only challenge the team will face. "It may not be as hot as the jungles," he admits, "but those other two aren't exactly going to be mild, either
In terms of travel, Shaginaw says that the advantage in South Africa was the ability to set a home base, and drive to and from each game. That won't be possible in Brazil, with games being played throughout the nation at points hundreds and even thousands of miles from one another.
It may sound funny, but at least with all the travel the players won't be cooped up indoors all day. Shaginaw explains.
"There are pluses and minuses—in South Africa, we couldn't leave the hotel without security detail—and my understanding is it'll be pretty much the same in Brazil," he adds. "In Europe, the players can kind of come and go—they can walk around town, have coffee… you can't really do that in Brazil."
The travel, he added, can be notoriously difficult on team staff members who are responsible for transporting about 10,000 pounds of gear to and from each game. "Warm-up gear, cleats, Gatorade, etc… shipping all that stuff back and forth can take a toll on you," Shaginaw says. "But for the players? They might like the change in venue—a chance to get out of that same hotel you've been in for the last 20 days."
In the end, while Shaginaw admits there's a decided advantage for South American sides in this tournament, he adds that there's reason for optimism for USMNT supporters. "If they can make it out of that group, they should have a good shot of going pretty far in the tournament," he says. "All three of their opponents are strong teams, so if they can make it past that group, that's evidence you've got a pretty strong team."