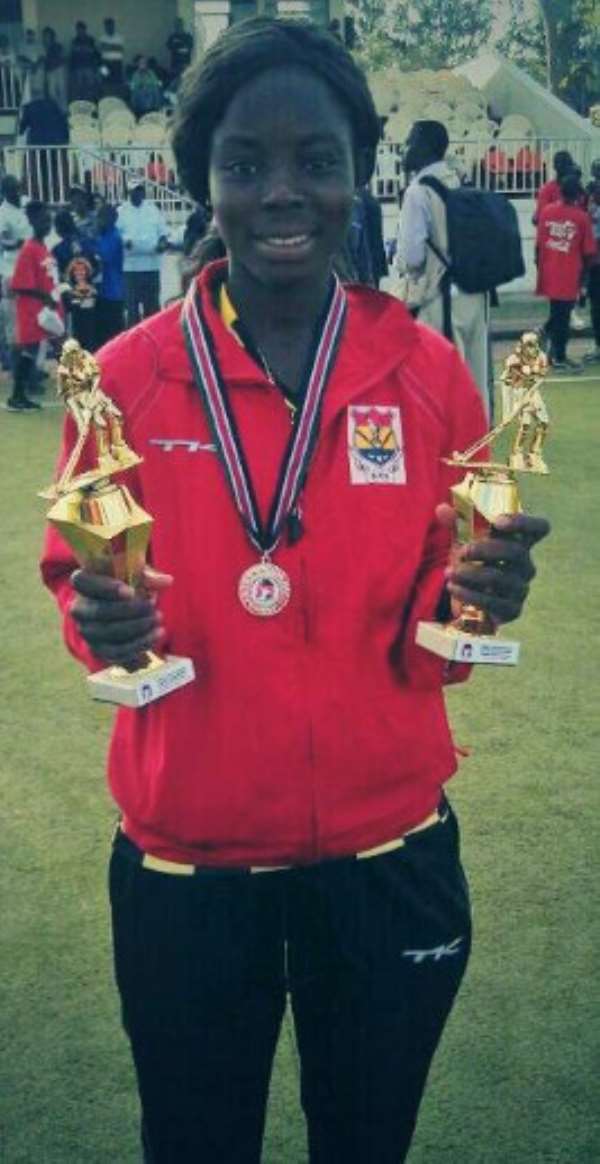 Elizabeth Opoku aka "Akiti" a level 200 student of the University of Ghana grabbed two major awards at the just ended Hockey African Cup of Nations in Kenya from the 18th to 23rd November 2013. "Akiti", 19 years old, is currently reading Sociology and Social Work and is an astute sports person school and country.
Elizabeth Opoku and 5 others students from the University of Ghana, were selected to be part of the Ghana national Hockey Team. During the national team's outing in Kenya, Elizabeth was considered as a sensational and a never-say-die striker during the entire tournament. She won the Top Goal Scorer in the female category with 11 goals and was also awarded the Best Player of the Tournament. In the Final match against South Africa, she scored a quick brace in the First Half but the South African team came back strongly into the second half to cancel Ghana's lead and finally snatch a 3-2 victory with 2 minutes to the end of play with Tanya Britz scoring the winning goal.
According to Elizabeth Opoku, Ghana's performance at the just ended Hockey AFCON was very
impressive and believes they would win the tournament in 2017. The male team finished 4th after loosing 1-4 to host nation Kenya in the placement match.
Elizabeth, who has 2 more years to complete the University of Ghana has gathered enough laurels already. She has the following achievements up her sleeves already:

Best Female Football Player for 2012/13
Discovery of the year 2012/13
Member, Runner-up,4X100m Team, Mini GUSA Games, March 2013
Member, Runner-up,4X400m Team, Mini GUSA Games, March 2013
Member, Runner-up, Soccer Team, Mini GUSA Games, March 2013
Gold Medalist, 1500m, UG Athletics Inter-hall Games, October 2013
Gold Medalist, Akuafo Hockey Team, UG Inter-hall Games, October 2013
Gold Medalist, Akuafo Football Team, UG Inter-hall Games, October 2013
Silver Medalist, AKuafo handball Team, UG Inter-hall Games, October 2013
Bronze Medalist, GUSA (Ghana Universities Sports Association) Cross Country, November 2013

2013-11-26 225332

2013-11-26 225348