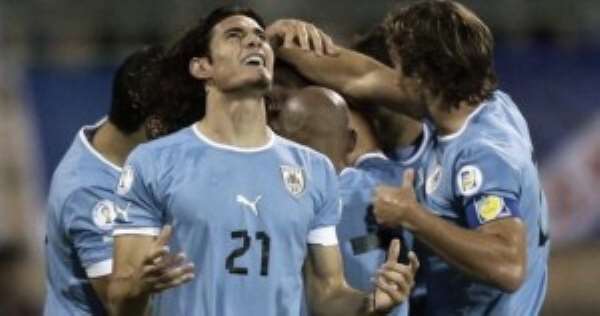 cavani-uruguay-630x333
http://en.africatopsports.com/wp-content/uploads/2013/11/cavani-uruguay-630x333.jpg After having inflicted a slaughtering 5-0 loss to Jordan in their first leg tie away from home, Wednesday night's goalless draw at home was sufficient enough for Uruguay to seal their spot at the 2014 Fifa World Cup Brazil next summer.
Uruguay just became 32nd and the last team to qualify for the Brazilian World Cup.
At the end of this decisive meeting, both sides' coaches dropped words that are not to be taken for granted.
"Jordan got what they wanted, a dignified role and a result that I suppose for them is very important," said Uruguay coach Oscar Tabarez .
Jordan's Egyptian coach Hossam Hassan however hailed his opponent he deems stronger than his side.
"We played very well; we met a very good team, very strong, with players from different parts of the world. I want Uruguay to have a good World Cup in Brazil,' he said.