World Cup/Nigeria: Efe Ambrose hopes to help Eagles shine in Brazil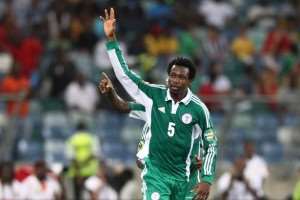 13868344_DURBAN SOUTH AFRICA - FEBRUARY 06 Efe Ambrose of Nigeria celebrates during the 2013 Oran-1590964
http://en.africatopsports.com/wp-content/uploads/2013/11/13868344_DURBAN-SOUTH-AFRICA-FEBRUARY-06-Efe-Ambrose-of-Nigeria-celebrates-during-the-2013-Oran-15909642.jpg After being the first African nation to qualify for the 2014 Fifa Brazil World Cup after their aggregate 4-1 win (2-1 first leg and 2-0 second leg) over Waliya Antelopes of Ethiopia, Nigeria through  Efe Ambrose  hope to shine in Egypt next summer.
The Celtic defender of the Super Eagles is aiming at helping Nigeria make a meaningful impact in next year's global showpiece by exceeding previously attained heights.
He said:  "I am happy to be part of this history making.
"My target now is to help my country do well at the World Cup. We can shine in Brazil because I know we can play a lot better than what we have been doing.
"Here we have a talented group of players and I expect us to go a long way next year.
"We play Italy this week now and that should be the start of our build-up.
"It is important to treat games like these as vital because these are the kind of teams we will be facing next summer."