Coach Appiah Swerves Personal Praise For Ghana's Near World Cup Qualification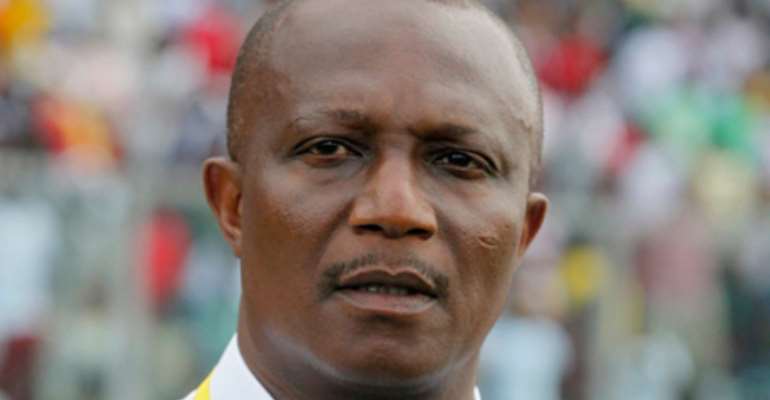 By Ameenu Shardow, follow on Twitter @alooameenu
Coach Akwasi Appiah has refused to claim all the glory as Ghana stand on the brink of a third successive World Cup qualification.
The Black Stars are in the most comfortable position going into the second-leg of the playoffs for next year's tournament in Brazil with a commanding 6-1 lead against Egypt.
Ghana be facing the record African Cup winners knowing they have very little to do to seal qualification to a third successive World Cup.
The Black Stars have been highly impressive throughout the qualifying series – losing just once against Zambia while blowing teams on their path away.
Egypt had not lost a single game in the series until being dished their heaviest competitive defeat by the Black Stars in last month's first leg encounter.
Praises have since been flooding in the direction of coach Appiah who came under intense pressure after the team's disappointing finish at the 2013 Nations Cup in South Africa.
And even though the job is not yet done, the general feeling is that Ghana will certainly be one of the five African teams at the World Cup in Brazil.
Appiah has however refused to revel in the glory by insisting anyone given a similar chance will excel with the team.
"For me the most important thing is the nation," Appiah said.
"I'm not looking at myself; I'm looking at Ghana qualifying for the World Cup.
" Fine it's good that a Ghanaian has been given an opportunity, but the good thing about it is that I believe if any human being is given an opportunity to perform, and you do the best that's within you you can achieve results.
"But it also goes down to the fact that a black man can also achieve something for the nation."
The Ghana team is expected in Cairo on Monday to finalize their preparations towards the November 19 clash at the Air Defence Stadium.