Jonathan's Sincerity, Ikwerre State And National Dialogue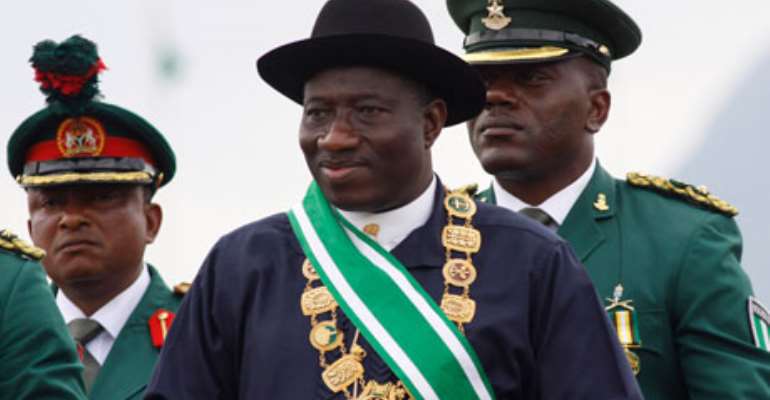 I may not be President Goodluck Jonathan's die-hard or partisan political fan, but I recognize his humane, benevolent, compassionate, sincere, gentle and humble qualities as a man. Whether these are the qualities of the politician who would succeed in leading Nigeria in the 21st Century, I do not know. I recall that in 2011, I humbly advised him not to contest the election that year at least to respect the constitution and convention of the Peoples Democratic Party (PDP) to which he belongs.
Let me also appreciate that our President can change his mind on any issue at any time it pleases him. But this may not conduce with a person acclaimed to be sincere! Whatever it is, I strongly believe that on accepting the National Dialogue for ethnic Nigerians, he had scored an excellent and quintessential starting point. The reason is that of all Nigerian leaders who had forced one Nigeria on Nigerians since 1914, none has been sincere and bold enough to encourage Nigerian nations to gather and tell their respective hate and frustrating stories upon which discussions would emanate, disagreements would erupt and by the grace of God agreements and consensus would spring.
These agreements and consensus would metamorphose into the true Constitution of the Federal Republic of Nigeria. So the basic objectives of the dialogue are to achieve these agreements and consensus among the no-matter-how-many ethnic nations of Nigeria, for the same purpose of keeping Nigeria one. Let me warn that without the agreements and consensus by ethnic groups that make up Nigeria on how they can harmoniously live together, Nigeria must one day scatter.
It is to avoid the scattering, breakup and disintegration of Nigeria that some of us write. I write to appeal to Mr. President to sustain his sincerity and allow the National Dialogue to hold on the following conditions: the dialogue has only one no-go-area and that is that Nigeria should continue to remain a country, Nigerians should continue to enjoy and savor the economies of scale arising from the size and heterogeneous content of Nigeria; the federal government should not organize or sponsor the dialogue; the federal government should only provide the venue and ensure the security of the dialogue; the membership should be native representatives of the ethnic groups, not exceeding three each and must be sponsored by the ethnic groups sending them; no politician who had served in political capacities since 1960 should be selected to attend the dialogue; any physical fight in any form automatically expels all parties involved in the fight from the dialogue; all ethnic groups present must be given full recognition and respect by all other ethnic groups, there must be no mention or allusion to majority or minority ethnic groups; the guidelines from the Presidential Committee should be made available to the conference organizers and members, the former should be international NGOs who must vouch to be dispassionate and objective in all they do at the conference, the organizers should be funded by the United Nations (UN) as part of its multilateral efforts at building peace and democracy; the agreements and consensus from the dialogue should be subjected to a very carefully organized referendum by the same organizers; the results shall be put together and presented to a Constitution Drafting Committee made up of international law-related NGOs; the constitution must allow the present politicians to finish their politics latest May 29, 2019; on this day, the Nigerian President elected based on the true Nigerian constitution shall be sworn in.
To assist that constitution, we must recognize that only one problem has the capacity to tear Nigeria apart and that is ethnic hate. Indeed the National Dialogue is only about how to manage ethnic relations in Nigeria because ethnicity, which was created and ordained by God, had long been abused in Nigeria. Remove ethnicity in most crimes committed in Nigeria by Nigerians since 1914, you would discover that these were real and punishable crimes against the peoples and state of Nigeria.
But once the criminals and cultists are caught, they would cry ethnic sentiments of marginalization, ethnic cleansing, religious intolerance etc. And so, they would be set free! Once the dialogue is able to set and guide how we can all live together as Nigerians, the rest issues people think are critical will dissolve. For example, bad political leadership, poverty, unemployment, inflation, corruption, unprofessional conducts, reproductive health, militancy, Boko Haram and the likes, HIV-AIDS, homosexuality, religious hatred, armed robbery and its siblings, and all other forms of ill behaviors afflicting Nigeria cannot break Nigeria.
They can be dealt with if ethnic Nigerians love themselves, appreciate their differences and accord respect to all no matter the number and location. Minus ethnicity, the challenges listed above only have strength when they are made to hide under ethnic sentiments. They are all political, economic and social challenges that Nigeria can resolve if we successfully settle ethnic snub, hatred and malicious intolerance. It is very difficult for any ethnic group who had suffered ethnic hatred to believe and trust in Nigeria unless we hear their stories and appease them. For example, Nigeria dealt very unfairly to the Igbo and all other ethnic groups in the former Eastern Region and so they deserve ( especially the Igbo) compensation and apology from the Nigerian State.
One other way we can live together in full harmony is to recreate Nigeria into ethnic states with the caveat that every ethnic state must survive or live within its resources and hardwork. No more a federation account from where sized resources are shared every month to the federal, state and local governments with which the politicians had been feeding fat at the expense of the development of Nigeria.
But each group must contribute an agreed percentage of its annual budget to the federation account to maintain federal services of foreign affairs, the military, central bank and currency, inter-state disagreements and regulatory agencies. So, the ethnic states can create as many local governments as they deem fit knowing that these local governments must live within their revenues and hard works. Arising from this arrangement is that ethnic states can also form regions based on clear cut agreements and consensus.
No ethnic state should impose itself on another because they are all equal as would be recognized by the constitution. Nigeria needs a small and effective federal government with a unicameral legislature and a Presidential System of government at the center. The office of the president shall rotate among the regions that would be formed by the ethnic states such that when one region occupies the office, the rest would have Vice Presidents from each region. When a President dies in office without completing his/her tenure, the Vice President from his/her region takes over to complete the tenure.
The constitution must allow self determination and political autonomy to the ethnic states so that they would be able to take appropriate decisions that would assist them solve their political, economic and social problems. Indeed, ethnic states would be squarely responsible for the social, political and economic development of their peoples.
What do these ideas mean to my Ikwerre Ethnic Nationality? It means economic, social and political liberation of the Ikwerre in Nigeria. Ikwerre Ethnic Nationality, numbering over two million people own and inhabit the four local government areas of Emohua, Ikwerre, Obio/Akpor and Port Harcourt. Starting from a long colonial journey or experience in 1849, the Ikwerre had been directly and/or indirectly colonized and subjected to all kinds of inhumanity by her chain colonizers (See Chapter Two of my book titled "The Challenge of Ikwerre Development in Nigeria" 2011). These colonizers include Britain, Nigeria, Igbo, Ijaw, Rivers State, Port Harcourt City Council, Emohua Local Government Council, Obio/Akpor Local Government Council and Ikwerre Local Government Council.
With over 164 years of bondage, the Ikwerre appears to have lost her history, language, stories, sports and entertainment, resources and indeed its development. Ikwerre had been reduced to an underdeveloped people, despite the guile of very few insane and unreasonable ones who think that in the mass of underdevelopment of the Ikwerre, they had escaped poverty and insecurity. Yet, they cannot go and live in their village communities for at least one month sleeping with two eyes closed. Never!
Where then is their peace-less rich? What we see today as Ikwerre is pseudo-Ikwerre: a highly contaminated specie that hardly can recognize or go back to itself and be itself. It is in these circumstances that those who had colonized Ikwerre would come forth to suggest to Ikwerre who Ikwerre is or should be. An insult to my people! Ikwerre has a story to tell the World at the National Confab and she demands self determination and political autonomy within the Federal Republic of Nigeria.
So the National Confab is a huge programme that must succeed if Nigeria must remain one. We need a Nigeria devoid of ethnic hate or abuse of ethnicity because it is Nigeria's number one problem. Nigeria needs the ethnic differences that spice up the milieu. President Jonathan succeeding in this dialogue would give Nigeria the Peoples Constitution and chronicle his name in more than gold in the history of Nigeria as the only President who was able to do that which none before him ever dared.
The confab would be used to correct the abuse of 1914 and make us understand that 1914 was not a mistake in itself; rather it was the abuse of it that was a mistake because the peoples of Nigeria were never asked to discuss how they would like to live together. A successful confab would have restored Nigeria and give more realizable hope and comfort to many. It would have restored ethnic love that should prevail among ethnic groups in Nigeria so we can have a ONE NIGERIA built on love, equity and progress.
Let there be Ikwerre State, Ogoni State, Ibani State, Akalaka State, Etche State, Eleme State, Abua/Odua State, Ijaw State, Ibibio State, Effik State, Anang State, Igbo State, Urhobo State, Isoko State, Itsekiri State, Edo State, Ijebu State, Awori State, Oduduwa State, Nupe State, Jukun State, Tiv State, Igala State, Berom State, Idoma State, Gwari State, Hausa State, Fulani State, Kanuri State, Kari-Kari, etc as many as have agreed to be an ethnic group and must depend on themselves for survival. Now is the right time to liberate Nigerians and Nigeria and sustain the idea of one Nigeria amidst differences in cultures, religion and geography.
This conference, whatever its content, context, contour and colour, is a test of President Jonathan's sincerity. I know he will not fail Nigerians, especially natives of the old Rivers State.