CAF Champions League: Al Ahly's new historic coronation – Video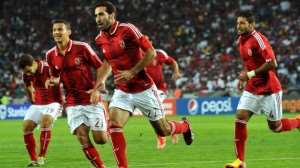 _70870829_186638195
http://en.africatopsports.com/wp-content/uploads/2013/11/70870829_186638195.jpg What a record! Al Ahly has lifted for the 8th time the African Champions League trophy on Sunday in Cairo. The Egyptian club dominated the final against the South Africans of Orlando Pirates with an impressive 2-0 victory. The goals of the shocking meeting were the achievements of Mohamed Aboutrika and Abdel-Zaher .
This result confirms that Al Ahly is the biggest club in Africa with a second consecutive coronation and a continental 8th coronation. No African team has achieved this feat.
In the first leg, Al Ahly had managed a 1-1 draw (3-1 after two games). Orlando Pirates is disappointed at the end of 90 minutes. The South African club ran behind a second African coronation after 1995.
Goals video http://www.youtube.com/watch?v=Xn6aWmi_1Iw http://www.youtube.com/watch?v=q55Fx2fRJOc