Makenga, DRC's wily rebel chief seen as war criminal by UN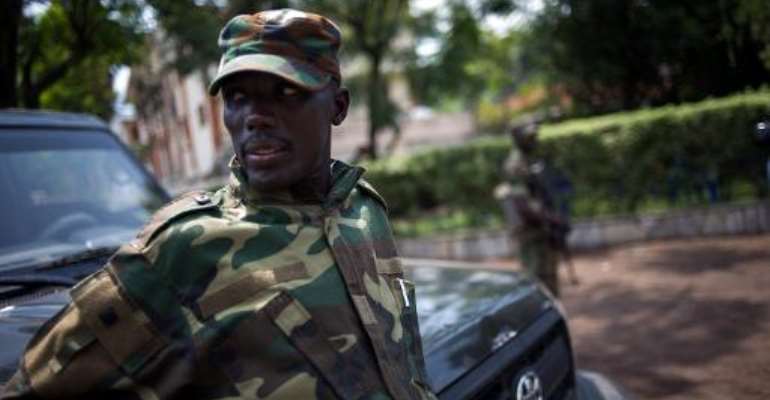 Goma (DR Congo) (AFP) - Sultani Makenga, the 39-year-old chief of the Democratic Republic of Congo's M23 guerrillas, proved a wily commander in his long military career -- but also, according to the UN, a vicious war criminal.
That latter reputation is what will likely take the fore, now that Makenga and his rebels have surrendered in neighbouring Uganda and UN-backed Congolese troops are triumphant over their nemesis.
The chief of the former insurgents and his fellow M23 commanders have been branded "among the worst perpetrators of human rights violations in the DRC, or in the world for that matter," by the UN High Commissioner for Human Rights Navi Pillay.
"Many of them may have been responsible for war crimes," she said in June last year, calling for them to face justice.
Makenga is accused of participating in several massacres, mutilations, abductions and sexual violence, sometimes on children, and is on both UN and US sanctions lists.
To his men and enemies alike, the slim figure standing 1.75 metres (five foot nine inches) was seen as a good military leader.
He was known for his spartan style, careful grooming -- including shaving close and a predilection for black sombrero-type hats -- and extreme taciturnity.
Born Emmanuel Sultani Makenga on Christmas Day -- December 25, 1973 -- in the chronically unstable North Kivu region of the DRC, north of Goma, he grew up to spend almost all of his adult life fighting in various rebellions.
Like many of the ethnic Tutsi officers who fought alongside him, he cut his teeth in the ranks of the Rwandan Patriotic Front, now in power in neighbouring Rwanda, when it launched a rebellion in the early 1990s.
He then served as a battalion commander in the Rwandan-backed Congolese Rally for Democracy before joining former DRC rebel leader Laurent Nkunda's National Congress for the Defence of the People.
Ever since he has been seen as loyal to Nkunda, who has spent the past several years under house arrest in Rwanda after he fell out with his former mentors in Kigali. Like Nkunda, he took to using an elegant cane to gesture as he gave orders
In April 2012, Makenga went AWOL while serving as a colonel in the Congolese army after he was ordered to cease a campaign in South Kivu against the Democratic Forces for the Liberation of Rwanda, made up of Hutu rebels.
He emerged several days later at the head of the military wing of the just-created Movement of March 23 (M23), founded by ethnic Tutsi former rebels who mutinied after being incorporated into the Congolese army.
Promoting himself general, Makenga earned a reputation as an aggressive tactician on the battlefield.
He was "a good soldier," said one Congolese army commander who recently fought the M23.
"He was smart. For example, he assembled all his forces on a path to make it look like there were more of them, while on the other side there was almost nothing."
Another army officer agreed that Makenga was deft in non-conventional warfare, but opined he was a poor tactician.
An AFP journalist who reported on fighting in 2012 saw Makenga moving among his fighters to boost their courage. A strict disciplinarian, he always had on him two radios: one to receive what was happening on the front line, and the other to give orders. He demanded that his wounded be quickly evacuated, and when danger neared he told the journalists there to withdraw.
Married, and the father of two girls, the rebel chief is known to occasionally indulge in a good whisky.
Having only known a life of combat, he once told AFP: "We spend all our time in war. We have never known peace."