Hearts Fans Can Go To 'hell' – Referee Ottis Oppong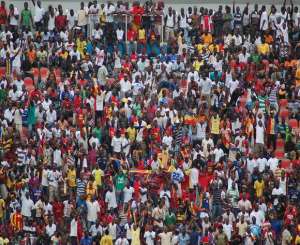 Hearts fans have been told to go to 'hell'
Under-fire referee Otti Oppong has told Hearts fans to go to 'hell' if they were unhappy with his  decisions during their 1-1 draw against King Faisal.
The centre referee has come under barrage of criticisms following some controversial decisions at the Accra sports stadium last Sunday.
Irate Hearts fans reacted angrily to many of his decisions and attempted to smoke him out as he run for cover.
But referee Oppong has hit back at the fans, telling them to go to 'hell' and back  if they have any issues with him.
"I did not do anything wrong. The fans can take me to anywhere including hell if they were not happy with my performance," Oppong told Peace FM
"I discharged my duties to the best of my ability and therefore see no reason why I'm been criticized left, right and centre.
"If they don't understand, they can go to hell."
Hearts have since condemned the behaviour of some of their supporters.