Kotoko Chief Wants Fans To Fund Purchase Of New Striker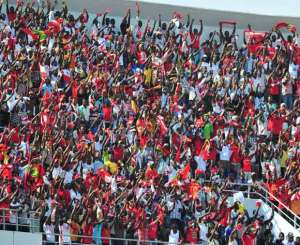 Asante Kotoko fans
Asante Kotoko acting Chief Executive Opoku Nti has asked the club's supporters to put their money where their mouth is in their crave for a prolific striker.
The champions are in the hunt to sign a new striker following their deficiency in the striking department.
Kotoko have been unable to score many goals despite winning more games than any other side in the Premier League.
The club look to spend to bring in a goal poacher when the second transfer window opens in a few weeks time.
Nti says the fans must contribute in financing the signature of a proven striker who will come with a hefty price tag.
"The supporters are craving a striker and all of us admit we need a striker," he told Metro FM.
"But strikers don't come cheap these days.
"Today if you want to sign a good striker in this country, you look in the region of over one billion (old) cedis (US$ 50,000).
"This is very expensive. And the Kotoko is not for any one individual.
"We therefore need everyone to contribute our quota in helping build a formidable side."
Abdul Aziz Yusif, Ransford Osei and Seidu Bancey are currently the only recognized strikers in the side.
Yahaya Mohammed has had to be played as a false striker in recent games following the fitness issues of Bancey.