Mexico will avenge Eaglets humiliation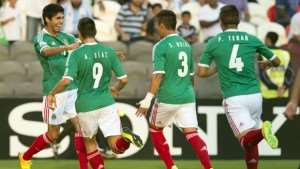 20131105_1383
http://en.africatopsports.com/wp-content/uploads/2013/11/20131105_1383.jpg Africa Top Sports reported some hours ago the running over of Sweden by Nigeria 3-o in the semi-final of the World Cup 2014 currently in full swing in the United Arab Emirates.
You were also informed on the other semi-final of the tournament that saw Mexico enjoying the same scores as Nigeria against Argentina.
As a result, Mexico will have to face Nigeria that already inflicted them a 6-1 win on the opening day of the tournament. Being an humiliation for the South Americans, they will seek to avenge Golden Eaglets of Nigeria through the words of Ivan Ochoa .
"We've got some unfinished business with them,' Ochoa said
"We've got a score to settle with them and we want to face them in the final and beat them. We'll be looking for revenge for what happened.
"That's one of the great things about football - it gives you the chance to get revenge. We'll be battling to the very end."
Mexico will defend their title against Nigeria in the final on Friday November 8, 2013.