Hearts Coach Duncan Denies Row With Defender Emmanuel Ansong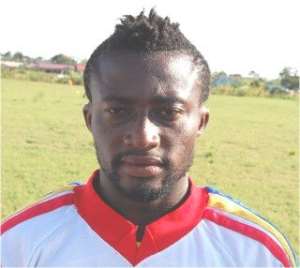 Hearts of Oak defender Emmanue Ansong
Hearts of Oak coach David Duncan has defended his decision to drop Emmanuel Ansong in recent games – insisting his selection is not based on personalities but on performance.
The 24-year-old has been left out of the side for recent matches – with Duncan preferring to play the more dynamic Stephen Tetteh in the full back position.
Rumours fast gaining grounds suggests Ansong has fallen out with Duncan.
But the former AshGold trainer insists his selection – in particular reference to Ansong – is purely based on performance and nothing else.
"Anybody who knows the relationship between me and Emmanuel Ansong will tell you that he is my son in Ghana football," he said.
"He was the first player I recruited in Ghana football, during my time at Olympics.
"But then when you have another player -Stephen Tetteh – who is doing well, what can you do.
"It is about the form the players show and not about personalities."