Don't Tamper With Black Stars Bench, Says Coach Ken Augustt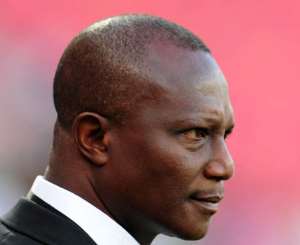 Ghana coach Kwesi Appiah
Football coach, Ken Augustt, has cautioned Ghana football chiefs against disturbing the Black Stars machine, warning that a technical director will only disorganise the current calmness.
Coach Kwasi Appiah is on the verge of history as the first local to guide the Stars to a World Cup appearance, and Coach Augustt said the new debate over a technical director for the team was an unnecessary distraction to a functioning machine.
He said the current situation had parallels with the debate over the colour or nationality of the coach of the team which dominated the media scene until Appiah's appointment last year.
In typical cool but forceful tone, Coach Augustt – now the general secretary of the Ghana Soccer Coaches Association – told Graphic Sports that "those who raise the debate must as well ask for expatriates to play for the Black Stars or ask for expatriates to man the Ghana Football Association, etc.
"It is no news that experienced coaches such as Sam Arday and Oti Akenten are at the service of Coach Appiah and the Black Stars. Therefore, whoever raises such a debate must be having an expatriate in mind," he noted.
The experienced tactician, who now boasts of a License A certificate in football coaching, was a virtual lone voice against the Ghanaian fondness for an expatriate coach for the Black Stars, and in the wake of Ghana's 2010 World Cup campaign under the guidance of Serbian Milovan Rajevac, he campaigned for the "reinstatement of the national pride" through the appointment of a local coach.
Indeed, at the time, fellow local coaches, including fellow outspoken trainer J.E. Sarpong, cited the potential of back-biting among locals as one of the reasons for preferring an expatriate.
"Back-biting is no excuse to look outside for competent hands. Who says the attitude is only a Ghanaian problem?
"What have those supposed top class coaches achieved where they are? If Ghanaians have groomed the Stars from their young days, why do they need the assistance of an expatriate to manage the players now?
"In any case, a coach is more important than a technical director. The latter is most often a mere decoration because his ideas might never see the light of day. Why then must we saddle ourselves with a ceremonial appointment?"