Ghana Captain Asamoah Gyan Backs Nigeria To Win U17 World Cup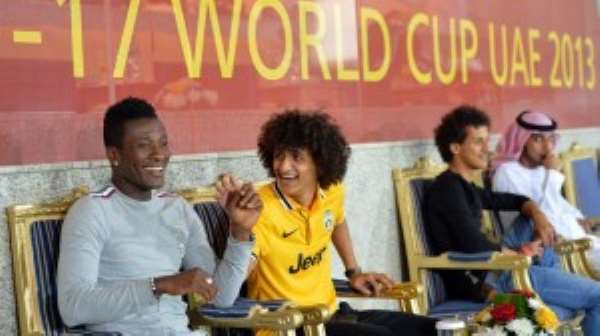 Asamoah Gyan and his team-mate AbdulRahman traveled to watch Nigeria
Ghana's inspirational captain Asamoah Gyan is backing Nigeria to win the ongoing U17 World Cup in the UAE even though the rivalry between the two West African countries is intense.
The charismatic captain of the Black Stars traveled from his Al Ain base to Dubai to watch the Nigerians thrash Iran to reach the quarter-finals of the tournament.
Nigeria's Golden Eaglets will see their 2013 Fifa Under-17 World Cup title ambition come under huge test from Uruguay in the quarterfinal at the Sharjah Stadium this Saturday.
The Uruguay-Nigeria clash is one of the big games of the quarterfinals at the ongoing Under-17 World Cup in the UAE.
Gyan picked out Nigerian players Kalechi Iheanacho and  Taiwo Awoniyi http://www.fifa.com/worldfootball/statisticsandrecords/players/player=372541/index.html  for special praise in the Golden Eaglets team and said he is backing the Flying Eaglets to win the title.
" Nigeria  an Ghana are very close. Of course, we're rivals in football but we're brothers in every other way," said Gyan, who could very well also be talking about fellow west Africans  Côte d'Ivoire http://www.fifa.com/u17worldcup/teams/team=1888317/index.html , who've reached through to the quarter-final stage of the competition for the first time in 26 years. http://www.fifa.com/u17worldcup/teams/team=1888272/index.html
"Any time I meet up with Nigerians it's like meeting up with family. We're like the same people really. I'm rooting for them."
The Nigerians go into this quarterfinal game with an enviable record of having reached the last eight of the Under-17 World Cup nine times.
Uruguay unlike Nigeria have reached the last eight twice but have put up an impressive run in the UAE winning three matches and scoring 14 goals.
Saturday's game between the Nigerians and Uruguayans will not be lacking in quality after brilliant displays from their youngsters.