The 2013/2014 MTN/FA Cup Launched Today At FA Secretariat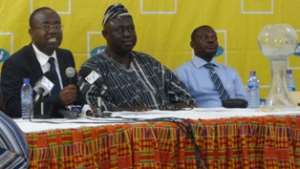 The competition which involves clubs from both the Premier League and the second tier league starts from November 6th to May 4, 2014. The competition involves 48 clubs from Division two as well as 48 teams from Division one.
Speaking at the launch, member of the MTN/FA Cup committee Kurt Okraku explained that matches between two division two clubs will be played on a nearby division one club's field because some matches will be telecast live and as such needs to be played on a good pitch.
He also said that the FA will give each team from the second tier league five hundred Ghana cedis as preparation fee for the tournament.