World Cup U-17/Sweden: Valmir " We can go very far; It is something i know"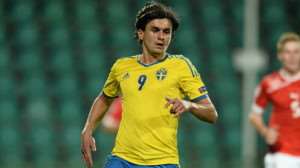 valmir_berisha_copyright_uefa
http://en.africatopsports.com/wp-content/uploads/2013/10/valmir_berisha_copyright_uefa.jpg Sweden created their own piece of history when they reached the quarter-finals of the 2013 Fifa U-17 World Cup with a 2-1 win over Japan on Monday.
This is Sweden's maiden outing in this competition and their previous best performance on the global stage was their first-round exit from the Fifa U-20 World Cup way back in 1991.
Valmir Berisha , one of the architects who enabled Sweden to get to the quarter-finals of the compettition currently in full swing at United Arab Emirates, told FIFA.com the desire of his side to reach their dream at Al Ain.
'We can go very far at this tournament; it's something I know, " Valmir told Fifa.com
"People call us 'little Sweden' but we're not so little,' he added
Vlamir will have to breakthrough Hunduras' obstacle  on Friday (November 1) in the quarter-finals to get a little closer to his dream.