The mysterious Black Stars technical directorship row; my take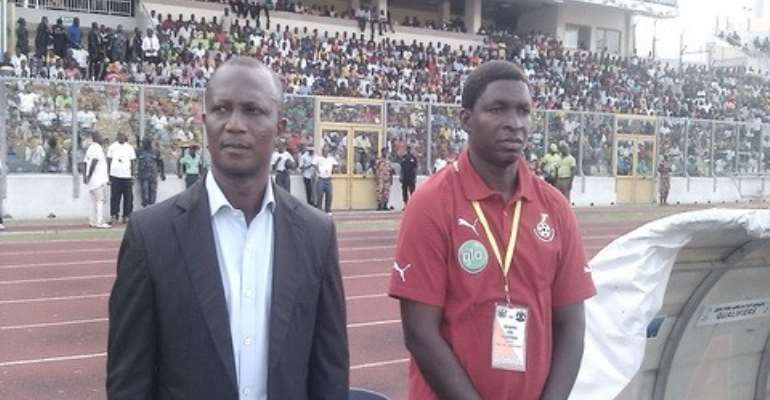 Since when did Ghana start appointing technical directors for the head coach of the Black Stars? I ask this question not oblivious of the fact that the Ghana Football Association has always had a technical director who oversees activities of Ghana's football from women's division, age division right up to the senior team.
And for the avoidance of doubt, as we speak we still have a substantive technical director for the GFA.
Is it therefore not curious that as Ghana prepares feverishly for the World Cup playoff return leg against Egypt, the appointment of a technical director appeared to have taken over the headlines.
We are told, rather vehemently, that because it's the World Cup Ghana has to 'beef up' its technical team before the mundial or would be embarrassed greatly? On the surface that sounds rather appealing but i dare say there is more to it than just a harmless suggestion.
First and foremost, the FA who is the appointing authority on issues to do with football and its technical direction has been silent on the matter. It will be exciting to hear what the men at the FA will say about this.
But the two prominent persons i have heard comment on this technical directorship row are former FA boss Alhaji MND Jawula and Yaw Ampofo Ankrah.
These are two huge luminaries in Ghana's football and i have a great deal of respect for them but a little clarity on the issue of technical directorship will suffice.
Alhaji Jawula said in an interview on Joy FM: 'If we are going to the World Cup we also need by Kwasi Appiah somebody who perhaps can sit with him, whisper a few things because he has been there before. It does not mean that he is going to give Kwasi Appiah any instruction. We are happy Kwasi Appiah, a black coach is going to the world cup but the reality is that it's good to have a good technical team around him. Just to say he should go all by himself i don't think that is modern football at all.'
Yaw Ampofo Ankrah is also reported to have said in an interview: '"It has been my position long ago that we must beef up the technical team. This is not a secret and anybody who knows football will attest that Akwasi Appiah and Maxwell Konadu cannot do the job alone. It is impossible. Even with those big countries who win the World Cup, just look at their technical set up. Our former coaches; Milo (Rajevac) and Dujkovic wanted this sort of assistance but for lack of funds but even that we met them halfway.We have to help them and it is not a matter of sacking them. The debate is how we can help Akwasi Appiah to success and not about replacing him with Topmoller or Mourinho.'
I am convinced beyond every shadow of doubt that the two men seek the best interest of the country, as we all are, but i am also convinced the two comments are not the least complimentary to the coach and his technical team.
Before i go any further, it is public knowledge that both Dujkovic and Rajevac went to the World Cup with a technical team, consisting of scouts who monitored the other teams paired in the same group with Ghana at the time.
That is a technical beef up of some sorts. If that is what messieurs Ankrah and Jawula are saying then i agree perfectly with them. Who in his right football sense would not?
But i am convinced beyond every shadow of doubt that, that is not what the two men are talking about.
To sum up the two comments, one can safely conclude by saying that the two men believe it is impossible for Appiah and Konadu to go to Brazil and perform and they also think anybody who has a contrary opinion is either unrealistic, emotive, a novice in football or wearing a cloak of nationalistic nonsense.
Somehow they think, or at least Jawula makes it emphatically clear that Appiah needs a big brother around him at the World Cup because it's the biggest stage and he cannot do it all by himself.
We have heard all these arguements before, haven't we? The only difference here is that the stage is different and it's the World Cup. Local coaches are not up to the task; they have never been because the people around them never had a scintilla of faith in them.
Once upon a time, Alhaji Jawula as chairman of the FA never had faith in the local coaches to even consider giving them a long term contract. Under his chairmanship, Sir Cecil Attuquayefio and Fred Osam Duodu had short stints as coaches of the Black Stars but were given the sack immediately the big brother foreign coaches were appointed.
The argument was made so forcefully about how impossible it was for the local coach to handle the Black Stars. About how the coaches will not be able to handle the egos of the players; about how they collect bribes and will be influenced by external factors; about how the FA will impose players on them. Haven't we heard all these before?
And when Ghana was ditched by Ratormir Dujkovic and Milovan Rajevac all of whom left Ghana unceremoniously, we decided to now keep faith with our local coach-Kwasi Appiah. Even after he was appointed, there were doubts about his ability to qualify Ghana to the World Cup and many attempts were made to yank him off after fourth place finish at the Nations Cup. But i applaud the FA for staying solidly behind him. I have people even saying that all the victories chalked by Appiah were fluke if not out of luck.
It is even premature to start talking about beefing up the technical team for the World Cup when we still have a game in hand, but if we doing so, it is only a testimony of the good performance by Appiah and his team. That performance is a vindication of the campaign some of us waged several years for Ghana to appoint a local coach and give him the same support we always gave the foreign ones. Then, we were called novices in football, highly irrational and emotive and clouded by a deceptive sense of nationalism. It's the same arguement now.
So who are my senior colleagues looking at as the preferred World Class technical director for Appiah? Maybe they should start giving us names so we interrogate it a little further.
Back to Yaw Ampofo Ankrah's comments. He said the two other foreign coaches who led Ghana to her previous World Cup demanded technical backups but the nation could not afford it then.
Can the nation afford it now? I bet it can, only because we have little faith in the local coach. So we are ready to vomit any amount to get a big brother and create a rather interesting new position as technical director for the Black Stars coach.
And let nobody MISUNDERSTAND me. I am by no stretch of imagination suggesting that Kwasi Appiah is ready and good to go to the World Cup. He needs a lot of training.
I am convinced Ghana will scrape through in Cairo no matter the odds. But from November right up to June 2014 when the World Cup will be on, we can do a lot to sharpen the skills and coaching acumen of Kwasi Appiah. He can understudy the best of coaches in the world within the period before the mundial.
He will not be the best of coaches at the Mundial but he sure will get the experience there.
If for any strange reason the FA decides to go along with the suggestions offered by Ankrah and Jawula, i ask; Who takes the flak when the team fails to perform at the World Cup? Who takes the glory when we put up an outstanding performance at the World Cup? Is it Appiah or the big brother coach we are seeking to appoint. Does it matter at all? Yes it does!
In conclusion, the World Cup is replete with stories of teams who had the best of coaches but were eliminated in the first round; there were stories of teams with the best of players and an average coach but performed wonders. Aimé Jacquet. Does the name ring a bell? He led France to her first World Cup. He had no credentials; all he had was the support from his people. Marcello Lippi with all his experience won all the accolades after leading Italy to the 2006 World Cup but what happened in South Africa 2010? Italy was last in a group involving New Zealand and Slovakia. He lost to the latter and resigned immediately after that. There are many more examples.
The best we can do for Appiah is to beef up his technical team with the best of scouts, upgrade his skills with the few months left and support him in the best way possible.
On the contrary if its the big brother we want to win us the World Cup, which cannot be e guaranteed anyway, then i suggest the FA must be bold enough to tell Appiah- congratulations for qualifying us to the World Cup but we need a more experienced hand at the World Cup.
Appiah should not succumb to this technical directorship proposition. He is better off resigning if the FA takes that decision because if he doesn't, who will credit or criticise him after Brazil 2014?