Ghana Striker Richmond Boakye Hospitalized After Nasty Injury In La Liga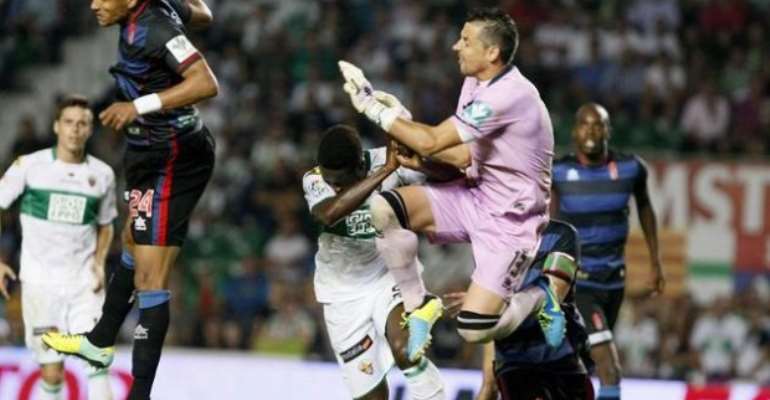 Ghana striker Richmond Boakye-Yiadom is in critical condition after collapsing to the floor after clashing with Granada goalkeeper Roberto in Elche's 1-0 home defeat on Saturday night.
Boakye, on-loan from Juventus, climbed off the bench in the 56th minute to help his Spanish La Liga side to snatch the equalizer.
Deep into injury time as Elche were throwing everything forward, a long ball forward saw Boakye leap to challenge Roberto for the ball, but the striker came out worse from the clash.
He collapsed to the floor and players from both sides quickly signalled to the referee and physiotherapists from both teams who rushed onto the field to attend the player.
Laying still and unconscious on the pitch, the physiotherapists checked to ensure he hadn't swallowed his tongue.
He was promptly carried from the field of play to a nearby hospital where he spent the night for further examination .
Elche later announced that the player has suffered a severe concussion injury.
The club do not believe the situation is serious but they are awaiting further confirmation from the hospital as to the extent of his injury.