Evra Calls Lizarazu 'Parasite'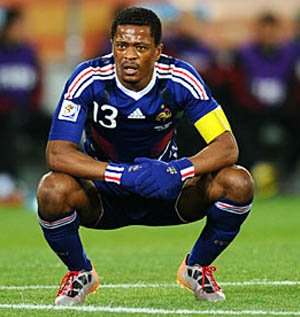 Patrice Evra
Controversial France and Manchester United defender Patrice Evra delivered a vicious tirade aimed at several pundits, among them France's 1998 World Cup winner Bixente Lizarazu on Sunday after they criticised him over a half-time talk he gave his team-mates.
Evra was criticised for speaking his mind during half-time of the 2014 World Cup qualifier with Belarus in September in which he was only a substitute.
The French eventually won the game 4-2 ending a run of five games without a win or a goal but still ended up having to contest a play-off to see whether they reach the finals or not.
Evra, never far from controversy and who was subjected to racist abuse by Luis Suarez in the Premier League match with Liverpool two seasons ago, did not take to the criticism at all and labelled Lizarazu and three other pundits 'tramps' and 'parasites' on French TV programme 'Telefoot'.
Evra, 32, said he would have preferred that the story about his talk at half-time had stayed within the dressing room, before he lost control of himself and tore into the quartet.
"There are some pundits with whom I will soon settle my differences… they want to sell a lie to the French people that Evra is disliked. But that is not the case at all.
"I do not know what Lizarazu has against me. Me, I was twice voted best left-back in the world, four times the best left-back in the Premier League. Him, I don't even know if he was ever voted best left-back in the world.
"I recall my first call-up to the national side, all the others shook my hand apart from him. Thierry Henry said to him 'Oh Liza, here is the opposition'. And Lizarazu looked at me and said 'Why? Someone told you that I was already retired?'
"People have a good impression of me, it won't be these tramps who dirty my image. They must stop lying to the French people," said the Senegal-born defender, who then classed them as parasites.
Lizarazu, who also won Euro 2000 with the last golden generation of French players, termed Evra's comments 'incomprehensible and appalling'.
"His first cap I was no longer even there and yes I was once voted best left back in the world," said the 43-year-old, who was along with Evra selected in an initial squad of 30 for Euro 2004 before the latter was dropped from the final squad by Jacques Santini.
"He blames us for dirtying his image but he is doing a great job of it himself. As regards the timing, it sucks."
Evra became infamous for having led the mutiny during the 2010 World Cup finals when he instructed the squad not to get off the bus and train in protest at Nicolas Anelka being sent home for an outburst of his own.
AFP