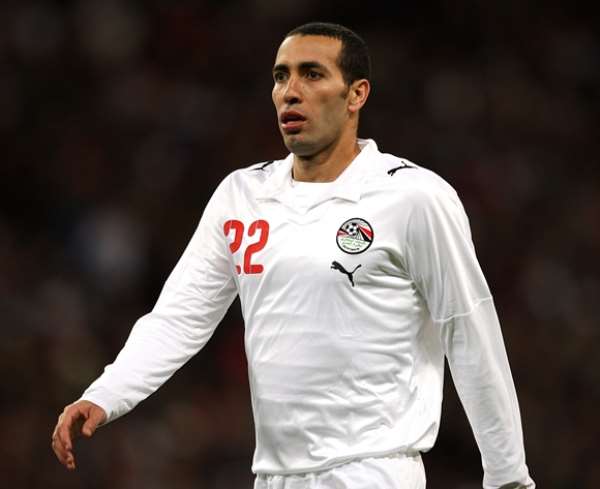 Mohammed Abou Treika is set to start for Egypt against Ghana on Tuesday.
 
So many questions are being raised regarding the best eleven Bob Bradley should be starting with.
While there are players almost guaranteed a starting berth like keeper Sherif Ekrami, attacking duo Mohamed Abou-Treika and Mohamed Salah, the backline still remains a mystery to predict for many fans and pundits alike.
The only man almost certain about his position at the heart of defense is stalwart and captain Wael Gomaa, but his partner is the talking point.
Should it be club-mate Mohamed Naguib, natural midfielder Rami Rabiea or first-choice right-back Ahmed Fathi?
At left back, Ahli duo Sayed Moawad and Ahmed Shedid will be vying for a place in Bradley's back four along with Zamalek's Mohamed Abdul-Shafi.
While on the other flank, Ahmed Elmohamady has been in steady form with Hull City, yet the defense-minded Fathi is still odds-on for the right-back spot.
Ahli's back four
Naguib could be the ideal man to start beside Gomaa, given the former's pace – an attribute that the latter lacks – in addition to the understanding between both Ahli center-halves.
While Rabiea is still too young to handle the pressure of such a big match, moving Fathi – who has what it takes to be a resilient center-half – to that position, is a risk not worth taking.
Such a move, which means Elmohamady will start at right-back with Fathi inside, will leave the right side vulnerable to the incursions of the likes of Kwadwo Asamoah and Andre Ayew or Mubarak Wakaso.
At left back, Ahli and Zamalek regulars Moawad and Abdul-Shafi should be the main contenders, excluding the diminutive Shedid.
Even though Abdul-Shafi has higher defensive abilities, better pace and is more efficient in the final third than Moawad, Bradley may opt for the Ahli man for two reasons.
Moawad would be more able to co-operate with his fellow Ahli mates at the back, and on the other hand, Abdul-Shafi's controversial absences from international duty could be taken against him when it comes to such a critical phase.
Three men in the middle
In midfield, three men deployed in that area would be the excellent formula to contain the presence of Ghana's big guns Michael Essien, Sulley Muntari and Asamoah.
Apart from Essien's abilities to retain possession and control his side's midfield, Serie A pair Asamoah and Muntari could cause havoc if given the space to strike from long range.
Thus tackling Ghana's midfield threat by three men is a must; Hossam Ashour, Mohamed Elneny and Hossam Ghaly, with only the latter allowed to advance forward to benefit from his astute through passes.
False number 9
Finally, the attacking department, with so many speculating that Bradley will not be fielding a center-forward as he used to do at the beginning of his stint at the helm.
The in-form Abou-Treika and Salah are indispensable for Egypt's attack, not just for their consistency and recent scintillating displays with their respective clubs, but more significantly, for the chemistry between the talented duo.
The harmonious pair was key in settling games for the Pharaohs in their group-stage campaign, as the 4-2 victory at Zimbabwe is a testament of how such a partnership can torment their opponents through Treika's silky defense-splitting passes and Salah's blistering pace.
But the question remains who will be the remaining attacking man?
So many are calling for the once-shining Amr Zaki – who has been arguably able to redeem himself after notching a goal against Guinea and another two for his new Kuwaiti club this term.
The Bulldozer – with his physicality and ability to dismantle defenses – is a force to be reckoned with, especially when Ghana are already suffering several absences at the back.
However, another opinion would favor a third deep-lying forward like Walid Soliman or Shikabala.
In this case, such a quick and free-moving frontline will be so difficult to mark or even anticipate.
All in all, Bradley shouldn't be preoccupied by playing cautiously in Kumasi, as he might not get a better chance to attack a team missing an almost-entire backline in addition to two key men in midfield.