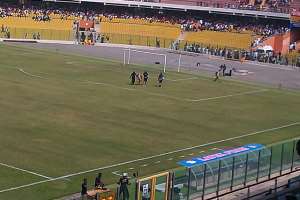 Glorious Hearts of Oak was on Sunday forced to bite their own voodoo, 'Gbeshi' as they were pipped 1 - 0 by bitter rivals Asante Kotoko at the Accra Sports Stadium.
The Chief speculation in the capital ahead of the game was that Hearts had flown a special spiritualist 'mallam' from Senegal to assist them in prayers to grab the three points at stake.
In an about an hour to kick start the match, an unknown half naked Hearts fan thronged onto the pitch from nowhere with a jeans and a Hearts flag. This middle aged man ran straight into the independence square end goal post and dumped his goods in there. The police on duty arrested and escorted him to pick his items from the post.
Luckily for the visitors their captain, Michael Akuffo won the toss and chose the opposite goal post leaving Hearts to fighting their own ghost. It was no surprising therefore that the only goal of the match was scored in that cursed goal post in the first half through Seidu Bansey.