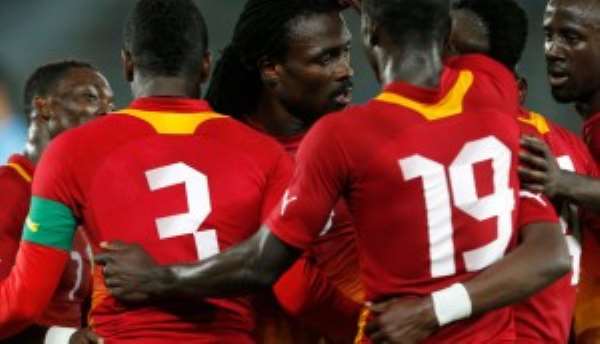 Black Stars
The new model of CAF's World Cup qualifiers has pitched Ghana against Egypt. For some reason, there is a major cause of concern for all Ghanaians. This is because Ghana appears to be in an unfavourable position, and our quest for a third appearance in the World Cup has come under threat. There are three main reasons why this threat is real. First of all, Ghana is particularly bad in play-offs. In the 1990s when Ghana attempted to make World Cup appearances, Ghana was eliminated by North African teams, namely Algeria (1993) and Morocco (1997). Secondly, Ghana has a not-too-good  record against Egypt. And this is evident by the fact that Egypt has won most of the matches the two countries have played. Ghana lost the most recent competitive match against Egypt in the 2010 AFCON Finals. Thirdly, the arrangements are quite problematic since Ghana will play at home first before going away to face Egypt.
            Although these facts appear to be a challenge, Ghana could turn around the challenges and convert them to stepping stones. For several reasons, Ghana ought to do everything possible to win this tie. The most prominent reason is the fact that Ghana's soccer development stands to be discontinued if Ghana fails to qualify for the World Cup. To this end, I will use this article to call all Ghanaian stakeholders to arms in working together to beat Egypt to qualify decisively for the World Cup. For this reason, I will recommend that all Ghanaians come together and put behind all our differences to work hard to contribute to the victory we need to appear in Brazil 2014.
URGENT ISSUES
Ghana defender John Boye
One of the biggest challenges Ghana has is our momentary loss in concentration during tough games. For the past two decades, Ghana always concedes when our defenders lose concentration for a short period and our opponents take advantage of it. This usually happens when our defenders appear petrified and watch the opponents advance through the defense. A textbook example is the case of the most recent match between Ghana and Zambia where our defenders left about four Zambians outside the penalty box unmarked. This led to a goal which threatened to engineer a Zambian comeback in the last 20 minutes of the game. If we cast our minds back, a similar incident occurred in Morocco in 1997 when the Ghanaian defenders lost sight of Moustafa Haji and allowed the unmarked striker to connect  with a cross which led to a lone goal which caused our elimination from the qualifiers. This is an issue that needs urgent attention. It all boils down to the proper organization of Ghana's defense and the commitment of our defenders to deal with all issues.
The second issue relates to Ghana having to play away from home in the final match of the play-offs. That proves to be problematic. I remember 1993 where the Ghanaians complained bitterly that the Algerians poured water on their pitch to give them an unfair advantage. I also remember a goalkeeper who stated that the Algerian fans in the stadium had torch lights that they shone on his face whenever the opponents were attacking. Well, this seem to be along the lines of what Zambian fans are busy protesting about after their loss in Kumasi. They claim they were attacked, harassed and forced to train on a car park. Although Ghana's excuses might have been true, they were not sufficient to take us through or lead to a rematch. It is almost certain that Zambia cannot get a rematch against Ghana for their flimsy excuses. Hence, the onus is on the GFA and the Black Stars technical team to find solutions to problems before they come up in our away fixture in this tie. Mind you, in 1993, the same Algerian team was beaten by Nigeria a few weeks after Ghana lost to them. So we need to find solutions to problems that we may face in Egypt and deal with them now. Notable amongst them is the issue of security which we need to question early and monitor closely.
The third matter relates to familiarity. It appears that Ghanaian  players are known and quite easy to be predicted and analyzed. Hence, there is the need for some degree of dynamism in the way we play. For instance, everyone knows Gyan. And everyone knows Essien, Ayew, Boateng and most of our top players. In that case, there might be a reason to shuffle some roles in the team to enhance our reputation.
The fourth urgent item is an issue that most people might not want to discuss. However, being a Ghanaian and an African, I think we need to be open about it although I know I will risk being ridiculed by my countrymen. This relates to spirituality. If we cast our minds back, we will remember that Egypt was such a mundane side between 1990 and 2005. The mention of Egypt did not bring any kind of fear to anyone. We all wrote off their 1998 victory in the AFCON as nothing more than a fluke (similar to what Zambia achieved in 2012). In 2006, when Egypt played Senegal, it was obvious that Senegal would beat Egypt. However, after a swift substitution by Hassan Shehata which saw Mido brought out for Amir Zaki, the whole game changed and Zaki got the goal necessary to take Egypt through. After that game, the fortunes of Egypt changed for five long years.
Egypt squad
Now, let us examine the man behind all those changes, Hassan Shehata. He is affectionately called "El Me'allim". This is somewhat similar to what the Hausa/Fula people will call Mallam. Although, in strict Orthodox Islam, a Mualim/Mallam is a scholar who knows much about the Quran, there seem to be an air of mysticism attached to such individuals. They seem to have the ability to examine things in an esoteric manner. Of course, Bob Bradley is not on the same level as Hassan Shehata. And many of the players in the current Egyptian squad can best be described as secular Egyptians. However, we need to recognize the importance of faith and mysticism in this encounter. Although I will not encourage people to live their lives in a superstitious manner, it pays to be sensitive to spiritual matters and avoid things that can potentially bring issues and matters. In that wise, I will encourage the rest of the team to take counsel from some of the players in the squad who are familiar with the role of spirituality in football in the Middle East and North Africa (MENA).
To Be Continued…. 
By: Kwabena Owusu, Academic and Strategist, Johannesburg, South Africa
Email: [email protected]
Make your views known on the article in the box below: