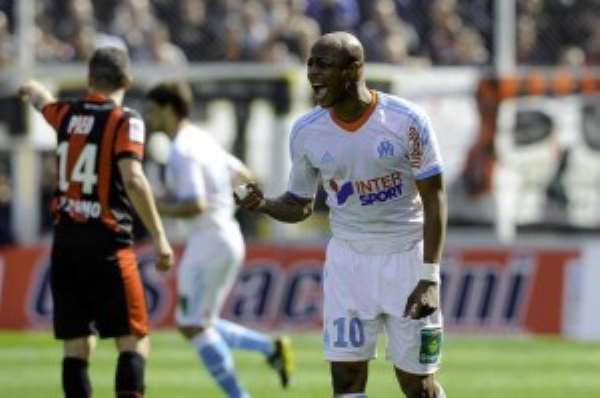 Andre Ayew
Ghana midfield supremo Andre Ayew is refusing to rule out a move to the England insisting he would love to play in the Premier League in future.
The 23-year-old, who plays for French giants Marseille, was in excellent form on Wednesday night when they played against English side Arsenal.
Ayew was linked with a move to the England in the recent transfer window, with Liverpool and Newcastle thought to be particularly keen.
His performance in the match against Arsenal has sparked fresh talk about his likely move to England in future.
Ayew insists he never said he wanted to leave Marseille at the end of last season, even if he would like to make the move across the Channel at some point.
"I did not finish last season saying that I was leaving OM," Ayew told La Provence.
And asked what in particular he admired about the English game he admired, Ayew responded: "I like a bit of everything: the atmosphere, the game, the fans.
"When I talk with friends who are there, they tell me the mentality is different.
"There is a lot of intensity. It is a beautiful championship.
"There are beautiful clubs: Chelsea, Liverpool, both Manchester clubs, Newcastle, Everton, Tottenham… They all play well in beautiful stadiums and can beat anyone at any time.
"There are seven teams that can fight to be in the top five and it changes. It's good.
"I'd like to move one day, but I'm in no hurry. I'm 23 and I'm still at OM, a great club."