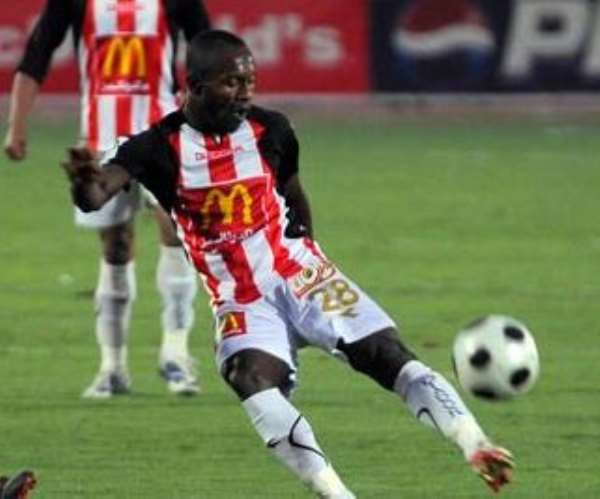 Ernest Papa Arko is confident about Ghana's chances against Egypt
Ex-Ghana striker Ernest Papa Arko remains confident about the Black Stars chances against Egypt in a crucial 2014 World Cup play-offs.
The West African powerhouse has been drawn against the seven-time African champions in a mouth-watering encounter in October and November.
The Ghanaians will host the first leg in Kumasi between October 11-15 with the crucial second leg expected to take place at a yet to be determined venue in the North African country in November.
Arko, who has played for several clubs in Egypt since 2004 is unwavering about the quality of the Ghanaian team to beat their opponent.
"Egypt is a very solid side.Make no mistake about it. Even though the League has been suspended, they are a formidable squad," Arko told Oman FM
"This is a country that can suspend a League for a month just to prepare for just one qualifier.
"So you will appreciate the level of importance that they attach to games involving their national team.
"They have been in camp for many months playing series of friendly matches and that resulted in their 100% record achieved during the group phase of the qualifiers.
"They are more than prepared and so we must be ready to face them. Having said that I believe we can beat them with the right mentality and approach."