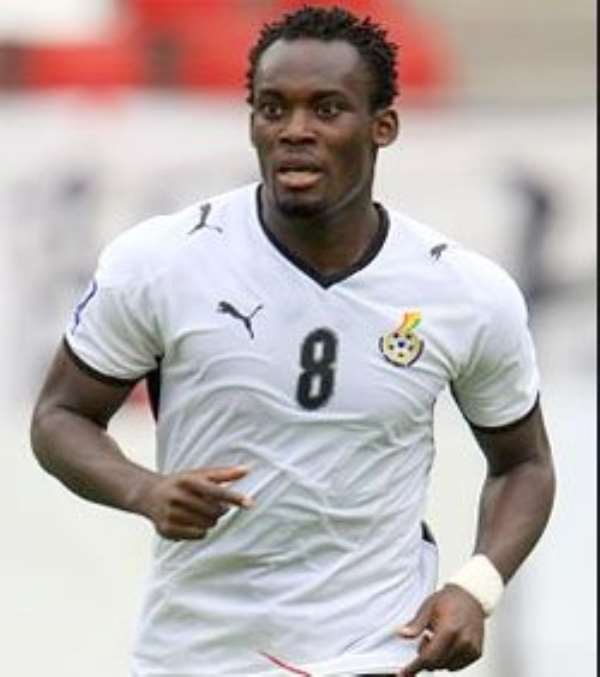 Michael Essien
Black Stars coach, Kwasi Appiah has revealed ahead of Friday's World Cup qualifier against Zambia that his boys are ready for the big game.
He had almost the full complement of his squad at the Accra Stadium yesterday, and he expressed gross satisfaction just two days into camping.
Apart from the TP Mazembe duo of Solomon Asante and Kissi Boateng, who joined the team last night, and goalkeeper Adam Kwarasey, who had been ruled out on medical grounds, all the players demonstrated readiness for the Friday showdown.
Skipper of the side Asamoah Gyan limped off the pitch during the session due to a muscle challenge, but coach Appiah kept mute on the injury situation and hinted the medical team would be the best directorate to speak on the seriousness of the muscle problem.
The soft-spoken manager indicated that the team was psyched up for the game on Friday.
'The Stars are even more psyched up than we the technical team. They have been talking about the game and how they want to win. I think it's a good sign,' said coach Appiah.
He however failed to disclose his probable line-up for the Zambia clash, but indicated, 'The most important thing is we win on Friday. The entire team is focused, as to which players will get first team shirt is not really important. I can assure you that I am impressed with what I have seen the past two days.
And responding to the demise of James Essien, father of Chelsea midfielder, he said, 'We are behind him and we will give him a befitting tribute by winning for him.'
The team is expected to fly out of the capital to Kumasi this morning and will continue their training session this evening.
Meanwhile, their Zambian counterparts will arrive from their South African base today for the crunch World Cup tie.
By Kofi Owusu Aduonum