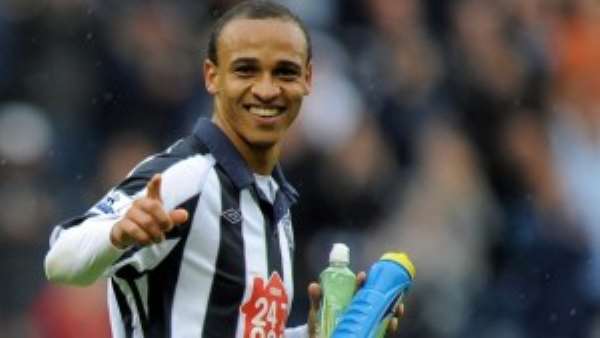 Peter Odemwingie of West Bromwich Albion celebrates victory at the end of the game
English club Cardiff City has been given permission to speak to West Bromwich striker Peter Odenwingie. The Nigerian striker joined West Bromwich in 2010 for an undisclosed fee on a two year contract, a day after ,he made his debut appearance for the club and scored a winning goal  in the 81st minute.

Odemwingie continued his fine form, scoring goals and making assist in most of West Bromwich games after serving his club for years, Odemwingie's future at West Bromwich came under doubt when he launched a tirade against his club on Twitter, in addition to accusing them of "reaching into his pocket", reiterating his wish for a move elsewhere.