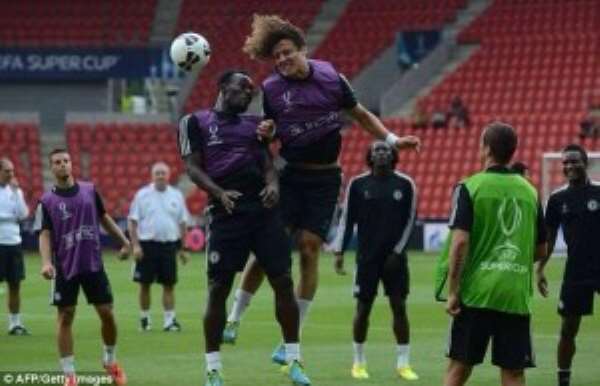 Michael Essien in training in Prague ahead of the Super Cup match
Ghana midfielder Michael Essien has been named in the Chelsea squad to face European champions Bayern Munich take in Friday's UEFA Super Cup in Prague.
Essien has not played for Chelsea so far this season yet he was part of the squad that traveled with UEFA Europa League winners.
The Ghanaian is expected to play a part in the Super Cup match even though he has not played for Chelsea so far this season.
As Chelsea fly out to Prague to face Bayern Munich in the European Super Cup, stars Romelu Lukaku and Michael Essien enjoy the flight.
The pair are yet to make their mark for the Blues this season but that is clearly not bothering the duo as they flick peace signs to the camera in the air.
Jose Mourinho will be up against Pep Guardiola once again in the match, whilst the two teams will face each other for the first time since the dramatic Champions League final of 2012.
Blues boss Mourinho has never lifted the Super Cup but if he succeeds this time round it will give Chelsea their second Super Cup, with the club having previously won it in 1998.
Mourinho, who has restored John Terry to the starting lineup after he lost his automatic first-choice status under Benitez, has pointed to the pressure Guardiola is under to at least match last season's historic achievements.
While Bayern recovered to prevail in the following year's decider against Borussia Dortmund, Chelsea redeemed themselves for a group stage exit with success in the UEFA Europa League, teeing up a shot at payback for Bayern at the Stadion Eden in Prague.