Former Black Stars Goalie Kingson In Trouble For Moving To Cyprus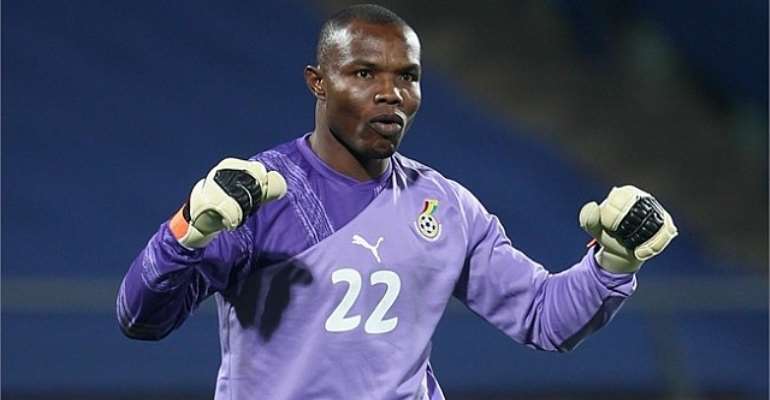 Former Ghana goalkeeper Richard Kingson appears to have made a wrong career choice after the world players' union FIFPro warned professional footballers to think twice before signing to play for clubs in three countries including Cyprus. 
Kingson ended his two-year inactivity last month by signing a one-year deal for top-flight side Doxa Katokopia.
The 34-year-old had been on the transfer market his release by then English Premier League side Blackpool in May 2011.
Another Ghanaian player Samad Oppong is expected to Ethnikos Achnas.
According to FIFPro clubs in the European country do everything possible to win players over, offering them fabulous wages but do not keep their promises.
"FIFPro wants to caution players and unions about the bad behaviour of clubs in Cyprus, Greece and Turkey," said the Dutch-based organisation in a statement.
Cyprus has for years occupied the first position, by a wide margin, as regards the number of disputes submitted to FIFA's dispute resolution chamber (DRC), while Greece and Turkey are vying for second position.
"In all three countries, the number of disputes increases every year. The only exceptions are those clubs that play in European football: these accept the UEFA club licensing system, which reduces the risks."
FIFPro said players had trouble getting paid and were forced to take out legal proceedings at soccer's world governing body FIFA, which could be drawn-out and expensive.
"Clubs do everything possible to win players over, offering them fabulous wages, a luxurious home, ambitious plans, a bonus for signing a contract, a bonus scheme or a percentage of a future transfer payment," said FIFPro.
"Unfortunately, FIFPro has found that many clubs don't keep these promises."
"Generally, after a few months, the club turns out to be short of financial resources, so the player has to wait months to be paid.
"Very often, he never collects (the wages). Some players find themselves forced to abandon their homes, because the club cannot or will not continue paying the rent and bonuses are never mentioned again."
FIFPro added: "A player who has lost out is left with no other option but to start lengthy legal proceedings via the Dispute Resolution Chamber in order to get what is his by right: his wages.
"Sometimes this turns out to be impossible because the club has meanwhile declared itself bankrupt."