Kevin-prince Boateng Faces Thursday Deadline For Ghana To Name Him For Zambia Clash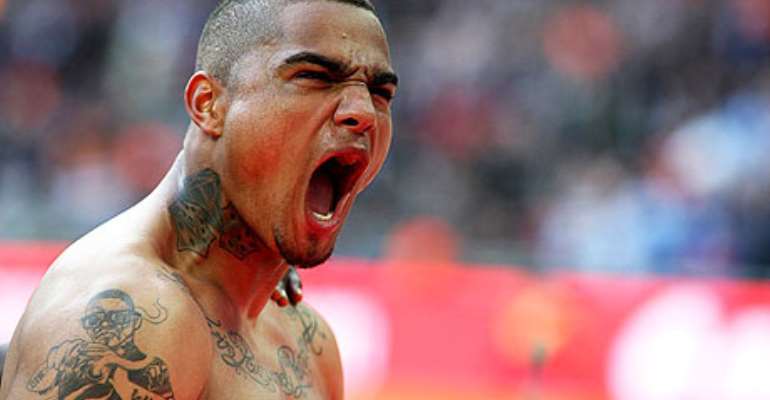 Kevin-Prince Boateng must write to the Ghana FA by Thursday to confirm his availability for Ghana before he will be named in the Black Stars squad to face Zambia in the crucial World Cup qualifier next month, GHANAsoccernet.com can reveal.
The AC Milan star is keen on playing in the decisive clash against the Chipolopolo in Kumasi on 6 September after verbally agreeing to return to the Ghana fold following his retirement from international duties two years ago.
Top Ghana FA officials met the Germany-born star in the past few week and convinced him to return to the Black Stars fold but have told him that he must officially rescind his retirement decision before Ghana can name him in matches.
Coach Kwesi Appiah cannot name the Italy-based midfielder in the squad to face the Chipolopolo if doesn't make himself eligible to play for Ghana by the deadline set the world governing body FIFA.
That is because as he has not written an official letter to rescind his temporary retirement decision, he is not officially eligible to play for Ghana.
According to FIFA rules, countries must inform clubs of their players of the decision to invite them for international qualifiers 15 days before the match.
With Thursday being the last day before coach Kwesi Appiah must inform clubs of his decision invite their players for the Black Stars to face Zambia, the Ayews must write the letter before they are considered for the match.
"Associations wishing to call up a player must notify the player in writing at least 15 days before the day of the match for which he is required," Article 3.2 of FIFA's Regulations on the Status and Transfer of the Players states.
"Associations wishing to call up a player for the final competition of an international tournament must notify the player in writing at least 15 days before the beginning of the 14-day preparation period.
"The player's club shall also be informed in writing at the same time. The club must con?rm the release of the player within the following six days."
As Boateng has not officially written to renounce his decision, he is still unavailable for international football and AC Milan could decline an invitation from Ghana since they have not received a letter saying the midfielder is now available for international football.
The GFA does not want a conflict with the duo's club and will not request their release for international duty until each player formally notifies their employers and the GFA of their decision to be available for the country.
The request is similar to what Asamoah Gyan did when he ended his self-imposed exile from Ghana's national team.