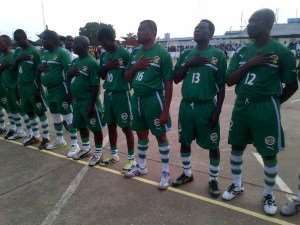 525722_566651786732345_984902743_n-300x225 (1)
Togo and Ivory Coast have retained their trophy at the 2013 Cup of Nations Maracana held in Benin last weekend. The veterans' team of Togo (pictured copyright Noël Tadegnon) beat its counterpart Ivory Coast in the final by 2 goals to 1.
With the Seniors, Ivory Coast national team took revenge and won their Togolese counterpart by the overwhelming score of 3 goals to 0. During the first edition in Abidjan, Togo had won the trophy of the seniors and Côte d'Ivoire won that of the Veterans.
Ten national teams including five in the elderly (35-44 years) and five among veterans (45 years) of the five countries of the Entente Council participated in the second edition of Afcon Maracana. It gathered teams from Benin, Burkina Faso, Côte d'Ivoire, Niger and Togo.
The Maracana is a discipline practiced by foot on a handball court, with six players on each team and four reservists.