27th Milo Marathon Unveiled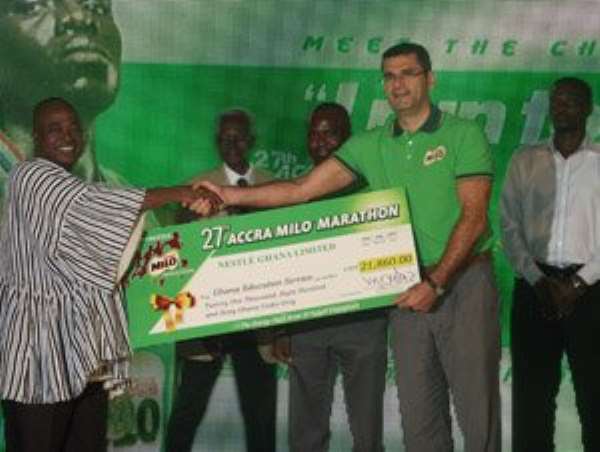 Moataz presenting the dummy cheque to Stephen Adu, Director Basic Education, GES for the Junior category. With them are Mr Adjin Tettey, Olufemi and Danny Welbeck
Nutrition, health and wellness company Nestlé Ghana last Friday unveiled the 27th edition of the Accra Milo Marathon amid brilliant choreography at its Dzorwulu office in Accra.
This year's event, themed 'Meet the champions', expected to attract 8,000 runners, is scheduled for September 21, with an improvement of the previous editions in terms of cash prizes, souvenirs and organization in both the mass sport and the juvenile categories.
Winner of the 42.2km mass sport, expected to draw 3,000 marathoners, will receive a cash prize of ¢12,000, up from ¢10,000 last year, while the second and third position winners will receive ¢8,000 and ¢6,000, up from ¢7,000 and ¢5,000 respectively.
The 5km junior sport, drawing 8,000 athletes on the other hand, will see the winner running home with ¢2,000, up from last year's ¢1,200, while the second  and third prize winners take home  ¢1,500, up from last year's ¢800 and ¢1,000, up from 500 last year respectively.
Managing Director of Nestle Mr El Hout Moataz indicated, 'Nestle is investing over ¢1.5million in this year's edition, and this underscores our commitment to help raise and nurture future champions for the big stage such as World Championships and the Olympic Games.
'As a brand which is easily identified with sports in general, MILO does not only support the unearthing of these talents, it is also committed to encouraging them to get to the ultimate.
'And in support of this statement, MILO will donate 2,000 shoes to children with sports inclination, in under-privileged schools across the nation, also a 100 percent increase in last year's donation.
'The annual event has been a wake-up call for us to be active both in mental and physical fitness. It is laudable for all and sundry to habitually engage in daily exercise and to adopt healthy eating lifestyles. Let's all exercise and run to keep our bodies healthy and strong always,' Moataz added.
According to Olufemi Akintola, CBM, Cocoa Beverages, registration will now be done with laser printed materials to check registration fraud.
He pointed out that henceforth, registration for the junior category would be conducted in the respective schools.
As usual, the Mass Sport will begin at The Point Restaurant, Nungua and at the Dansoman Keep Fit Club (DKFC), organizers of the event, while the U-15 category will start from New Times Corporation and end at DKFC.
Registration forms would be available at places like DKFC, the various stadia in the country, Abrantie Spot, Lapaz and other vantage points for prospective runners who will undergo medical screening before the race.
The event is being supported by Metropolitan Insurance, Voltic Mineral Water, Ghana Education Service (GES) and EXP Momentum.
 By Kofi Owusu Aduonum