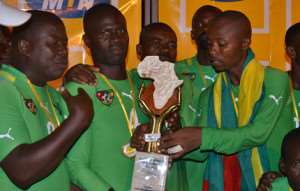 28-05-2012-05-38maracana
http://en.africatopsports.com/wp-content/uploads/2013/08/28-05-2012-05-38maracana.jpg Togo arrived Thursday in the capital of Benin to take part in the second edition of the African Cup of Nations Maracana. As Togo, each participating country has two teams, one of the Seniors (aging between 35 and 45 years) and the other Veterans (aging 45 years and over).
The competition started on Friday with the opening ceremonies. Togo that is defending its champion title acquired in the first edition in Ivory Coast in Seniors, and also a place of vice champion in th Veterans plays a game this Saturday against Côte d'Ivoire.
Togo aims at coming back with two trophies in Lome.
Five countries, including Burkina Faso, Côte d'Ivoire, Niger, Togo and the host country take part in this edition. After confirming their participation, Mali and Liberia were finally withdrawn.