Breaking News: Ghana Line-up High Profile Friendly Against Brazil In October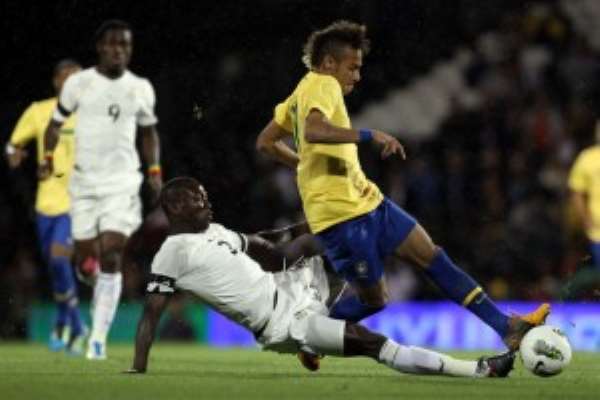 Ghana played Brazil in England in September 2011
Ghana have lined up a high-profile friendly against South American giants Brazil in October, GHANAsoccernet.com can exclusively reveal.
The Black Stars will take on the Seleção on 15 October as the South Americans prepare for their hosting of the 2014 World Cup.
The match will be played in China as the Brazilians take their national team to various countries where they are popular, Brazil FA insiders have told Ghana's leading football news outlet, www.ghanasoccernet.com.
Ghana will face the multiple world champions at China's National Stadium, also known as the Bird's Nest Stadium.
But the Ghana FA has ONLY TENTATIVELY agreed to play the friendly knowing that they will be engaged in the final play-offs for the 2014 World Cup on 15 October.
This means Brazil's match against Ghana will only take place in the most unlikely event that they don't reach the playoffs.
The conditional agreement means the Black Stars can pull out without having to pay any damages to the Brazilians.
As a back up, the Brazilians have reached a deal with Zambia knowing that Chipolopolo are most unlikely to qualify for the playoffs which will make them free to play the match on that date.
Ghana will take on Zambia on 6 September to decide which country will play in the playoffs for the World Cup.
The clash with the five-time world champions is one the second high-status friendly Ghana have lined up in recent years.
The prestigious Brazil match forms part of Ghana FA boss Kwesi Nyantakyi's promise to take the Black Stars to another level in his second term in office.
Ghana have played Brazil thrice at the senior level with the five-time world champions winning all matches.
The two teams met in the second round of the 2006 World Cup, where Brazil beat Ghana 3-0 in Dortmund with goals from Ronaldo, Adriano and Ze Roberto.
Their second meeting came a year later in Sweden when Vagner Love's first-half goal helped the South Americans to the victory in Stockholm.
Brazil beat Ghana 1-0 in their last meeting two years ago at Fulham's Craven Cottage in London.
Ghana has also played England in recent years apart friendlies against Holland and Mexico.