Ghana Legend Polo Saddened By Conduct Of 'rebelled' Black Stars Players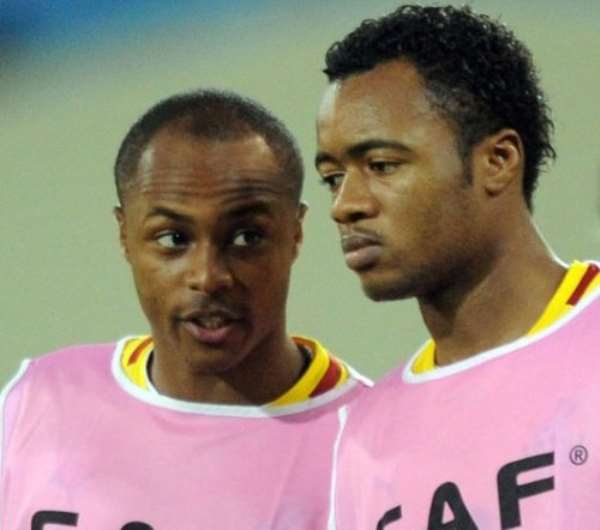 Andre and Jordan Ayew yet to write to Ghana FA to make Black Stars return
Ghana legend Mohammed Polo says it is disheartening seeing players 'play games' with their decision to play for the Black Stars.
Andre and Jordan Ayew are still holding out in writing officially to rescind their decision to quit the national team – albeit on a temporal basis.
Kevin-Prince Boateng is also to write to confirm the revelation made by Ghana FA boss Kwesi Nyantakyi of the AC Milan star's to make a return since announcing his premature retirement in 2011.
Boateng's Milan teammate; Sulley Muntari is also required to apologize for an untidy dressing room argument with coach Akwasi Apppiah in Ghana's win over Lesotho in the last round of World Cup qualifiers.
The former Inter Milan midfielder will not be accepted back into the team unless he does the 'proper' thing by apologising to the coach and the rest of his teammates.
These players especially with the Ayews and Boateng have however delayed in writing to the Ghana FA's to seal their return to the Black Stars and this makes Polo who played with total devotion during his active days as a Ghana international extremely sad.
"I feel very sad these youngsters playing some sort of games with this country," he told Radio Gold.
"Their father (referring to Ayews) suffered from the amateur ranks to become a star for Ghana to set a good foundation for them.
"Therefore I feel very sad where things are getting to. In football you have to play to set a good legacy and not the opposite.
"If they are not ready to play for Ghana they should let us know."
There are however reports that Boateng is ready to write to the Ghana FA to rescind his decision to quit the Black Stars.
The same can however not be said of the Ayew brothers as they appear unwilling to making their public announcement of their return in the media official to the association.