Espanyol Coach Barks: Mubarak Wakaso Is Not For Sale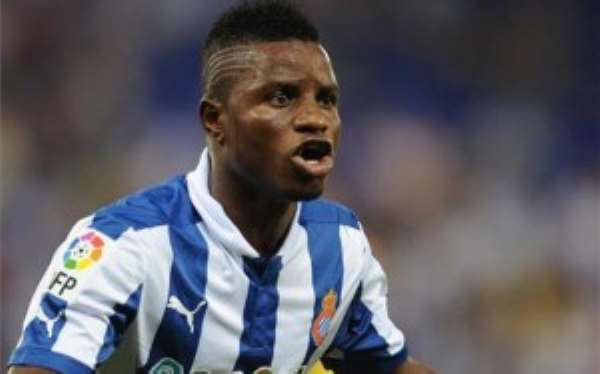 Mubarak Wakaso is not for sale
Espanyol coach Javier Aguirre says Mubarak Wakaso is not for sale despite the Ghanaian midfielder's quest to leave the club over low wages.
The Mexican manager has told the club not to sell the influential player claiming he will play a key role for them this season.
Wakaso is furious that even though he is a key player for the club he is among the lowest earning players in the team.
The Ghanaian had an offer from Russian club Rubin Kazan, that could have seen his wages multiplied by EIGHT TIMES, rejected.
Wakaso has since warned Espanyol that he will slap in a transfer request if his salary is not hugely improved.
Javier Aguirre, coach of Espanyol, has revealed that the Ghanaian is key to plans for next season and has asked the club not to sell Wakaso.
"I have my team and in team are Wakaso and Moreno and they are not for sale," Javier Aguirre, coach of Espanyol said.
"They are key players in my team and are not for sale. This is what I have told the club. This is my primary idea. Both players have long contracts."
Wakaso is still keen on moving to Russia with the bumper offer from Rubin Kazan.