Skillnet Sports Management's first ever International Scouting Camp successfully took place last weekend. It united football teams and individual players from Ivory Coast, Nigeria and Togo.
As many as 215 players were at the Ajax Park, Legon Campus in Accra.
Scouts from Sweden - with partners based in Norway and Denmark - witnessed the two-day event which lived up to expectations in terms of performances. SSM CEO Raymond Owusu underlined the importance of breaching local frontiers by including West African neighbours into the mix.
'This scouting camp has given an opportunity and a platform to unknown players in youth leagues and academies,' he said.
'It's a privilege for other West African countries, lacking such opportunities back home, to exhibit their talents here in Ghana.'
The International Scouting Camp organized by Skillnet Sports Management presents itself as a solution to reduce fake agent crimes of which many aspiring players on the continent become victims. Raymond Owusu further commented on this topic as he explained:
Advertisement
'Fraud agents deceive players and take huge sums of money. They promise to place them in clubs in Europe without ever introducing them to the clubs in the first place.
'At the International Scouting Camp, scouts are present and that's how players get picked. This strategy guarantees successful candidates of making trials in Europe or other parts of the world.'
Twelve players from the 2013 International Scouting Camp at the Ajax Park were shortlisted by the Swedish scouts. Only six will make the final cut for trials in Scandinavia.
2013 International Scouting Camp - Participants
African Rangers FC (Ghana); Coach: Isaac Boakye
Cote d'Ivoire - Togo Select Side; Coach: K. Mensah
Cote d'Ivoire Select Side; Coach: Danny Zoro
Ghana - Togo Select Side; Coach: Toafik Oba
Ghana Parrank FC; Coach: Frank Adade
Ghana Sporting Club Accra; Coach: Fiifi Hanson
GIGISIL FC (Nigeria); Coach: Mr. Lawson
Kumasi All Stars (Ghana); Coach: Samuel Norman
Obuasi All Stars (Ghana; Coach: Mr. Kwawson
Shaggy FC (Ghana); Coach: Abdul Rahman
Sporting Life FC (Ghana); Coach: Isaac Amooh
Vision FC (Ghana); Coach: Chris Naimely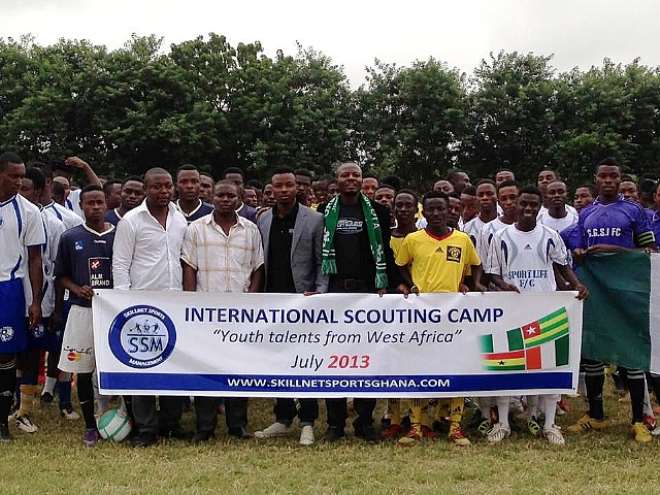 Skillnet Sports International Youth Camp