9 June 2013
|
Sports News
Roland Garros: Nadal-Ferrer, an appointment with the history
Moutakilou MUMUNI - en.africatopsports.com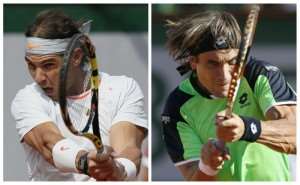 Rafael Nadal and David Ferrer have an appointment tonight with the history. The two Spaniards will cross the racket in the mid-day (13 h TU if the weather permits) for Mousquetaires trophy at Roland Garros.
Undisputed master of the red area at the Porte d'Auteuil, Rafael Nadal (27 years) will try, after tough match against Djokovic Friday to become the first player to win eight times one Grand Slam title. In nine appearances to the International tennis tournament of France tennis, the world No. 4 will play on Sunday the eighth final "What I've done over the last nine years, this is something incredible. I would obviously never consider such a thing, " said the Majorcan who has never lost the last act (Mariano Puerta, Roger Federer, Robin Soderling and Novak Djokovic tried in vain).
But despite everything, he does not consider himself as favorite, as everyone says "No, I'm not favorite. I am neither invincible nor favorite ", he said. Modest but realistic because he tasted defeat against Robin Soderling (editor's note, knockouts, 2008). Prevents that "it must be a perfect match and hope that he is not at his great shape to beat him," said David Ferrer , No. 5 in the world, who has not conceded a set during the fortnight. The Valencian has already beaten his compatriot on earth "but he was a child," he admits (editor's note in 2004).
At 31, David Ferrer, expeditious against Tsonga http://en.africatopsports.com/2013/06/04/roland-garros-first-semi-for-tsonga/ , will then try to break the reign of Rafa at the Porte d'Auteuil for his first Grand Slam final. To find traces of a player to win his first Grand Slam final, we must go back to 2009 with Juan Martin Del Potro at the U.S. Open. On their last seven meetings, Ferrer has only managed to take a game twice to Rafael Nadal. Seven-time winner of Roland Garros, Nadal has 11 major titles in 17 finals.