Afcon Beach soccer : The results of the first day!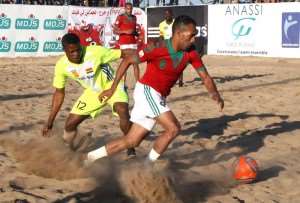 First day of competition for the Afcon Beach Soccer 2013 in Morocco.
Four games were scheduled for this day. In raising the curtain in group B, Ivory Coast has taken over Egypt 4-1. Sakanoko (8), David (12 '14′) and Aka (22 ') scored for the Elephants. Aly (19 ') had meanwhile reduced the brand.
Nigeria has easily defeated Libya on the brand of 8 goals to 4. Two triplets of Isiaka Olawele and Emeka Ogbonna and goals from Emmanuel Kyande and Abu Azeez ensured the success for the Supersand Eagles.
In Group A, Senegal, titleholder passed over Madagascar 7-4. Fall, Ng. Sylla (2), Mr. Syll, Koukpaki (2) and Sheikh scored for the Lions, while Giovanni Tiana and Fabrice found the net for the Malagasy side.
The host country (Morocco) splattered 9-2 Ghana. Thanks to goals from Nassim (3) Boulakouaba, Anas (2), El Hamidy, Gio Briguel. Sapper and Lawer saved the honor of the Black Sharks of Ghana.
Program Thursday
Ivory Coast vs Libya
Senegal vs Ghana
Nigeria vs Egypt
Morocco vs Madagascar