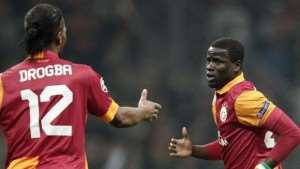 Another tough weekend for Afros in Europe. You learned the misadventures of the Italo-Ghanaian Mario Balotelli during the match against Roma http://en.africatopsports.com/2013/02/26/seria-a-mario-balotelli-a-victim-of-racial-abuse/ .
Didier Drogba and his African teammates of Galatasaray have not escaped these pseudo of fans at the Istanbul derby between Fenerbahce and Galatasaray (2-1). The Ivorian and his compatriot Eboue were booed heartily. They have been also shown bananas meaning that they were monkeys.
An attitude that frustrates Drogba: "Fenerbahce supporters have called us monkeys and have shown banana to me and Eboue. The problem is that they do not realize that Pierre Webo, who scored two goals is a monkey, he also has a black skin! "
The meeting was also stained with the murder of a supporter stabbed.
FIFA and UEFA have engaged the fight against racism. http://en.africatopsports.com/2013/04/10/uefa-fights-against-racism/