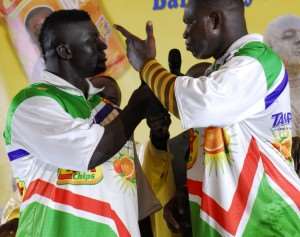 On June 2, Balla Gaye YY faces Tapha Tine . 50,000 fans are expected for 17,000 seats available.
Combat atop pitting on June 2 at the Demba Diop Stadium in Dakar, on the one hand Balla Gaye II, the actual King of arenas against Tapha Tine who defeated another former king of arenas, Bombardier . A record number unprecedented in the arena of Senegal is expected.
An application that is sure to be higher than the offer in terms of tickets.
In fact, the Demba Diop (stadium of soccer legendary where took place the games of 1964, but which has become a den of Senegalese wrestling, in the absence of national arena … can only hold 17,000 seats.
An ability that has often been a problem for some developers in certain battles past years resembled more to this one pitting Balla Gaye II to Tapha Tine.
This was the case for the battle Balla Gaye II against Yekini or that of Modou Lo against Eumeu Sene.
Fears of overcrowding at the stadium with all possible dangers are already evident in the battle of June 2.
Hence the decisions of the promoter of this fight, Aziz Ndiaye from the Aziz Productions to make a presale of the most expensive tickets and concerning the houses and covered.
 "From May 2, or nearly a month to the battle between Balla Gaye II and Tapha Tine, the tickets especially for the lodge and covered will be sold to a contingency against entries " sustained the promoter a few days ago.
Words that were charged 72 hours ago with the sale of tickets by booking the lodge which reportedly would cost 100,000 CFA francs.
One way for the organizer of this fight "to prepare the Senegalese opinion on a fight sold out."
What is not in the habit of the Senegalese passionate by the wrestling often expect the same day to go to the stadium to quietly negotiate the entrance ticket behind long queues.
Evidenced by the fact that on May 1 at the battle between Sa Thies and Malick Niang, they were numerous to have bought a ticket without getting access to the Demba Diop stadium.
At about two hours of battle (16h GMT), the Senegalese National Police had demanded the closure of the entrance doors and stopped the sale of tickets.
The Demba Diop stadium was already filled to capacity. The fight is the most popular sport in Senegal and attracts most people and atmosphere every weekend.