Afcon U17: Morocco also validates the ticket to the semis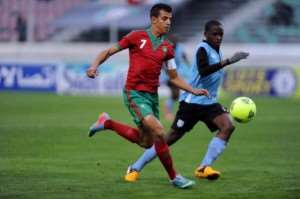 More suspense in Group A of the 10th Africa Cup of Nations under-17.
Even before the last day of the group stage, we know the two qualified for the last four. After Tunisia , which defeated earlier Gabon (4-2), Morocco has defeated Botswana 3-0, confirming its good opening match.
All is played in the first half. Younes Bnou Marzouk at the 17th opened the scoring before Hamza Sakhi   confirms this advance by a second goal. In the second half, the Atlas Cubs validate their ticket with a third goal for a doubled for Marzouk. Morocco is at the same time qualified for the World category in the UAE.
On Wednesday, group B get into action. Nigeria , the leader faces Ivory Coast , while Congo defies Ghana, atomized by the Golden Eaglets 1-6.