Afcon U17: The Tunisian list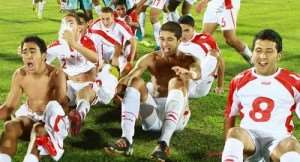 As a prelude to the Afcon U17 to be held in Morocco , the coach of the Tunisian national team Under 17, Abdelhay Ben Sultan has released his list of the 21 players on Tuesday.
Esperance Sportive, with seven players and le Club Africain (six players) are the most representative clubs. Unless something goes wrong, the players who started the last turn of the preparations will be the same in Morocco (April 13 to 27) for Afcon U17.
"With young players, you cannot summon more and discard later 2 or 3 while sending the final list. It is not at all good for the morale of a young player, " explains the Tunisian coach.
Housed in group A, Tunisia will have as opponents of group, Morocco , host of the competition (Afcon), Botswana and Gabon .
List of the 21 invited
Chamseddine Samti, Sabri Akrout, Nidhal Selmi, Wassim Naghmouchi, Marouen Sahraoui, Ben Hamza Cherifia, Moez Abboud (EST) Chiheb Jebali, Ghazi Ayadi, Khalfi Kouni, Rached Arfaoui, Mohamed Ali Ben Salem (CA), Hazem Hajj Hsan, Bahaeddine Othmen,Yasser Sellimi (ESS), Belarbi Firas, Khalil Hnid (ASM), Chakir Rouahi (CAB), Sabri Ben Hassine (CSS), Charfeddine Ghidaoui (JSK), Chahreddine Ben Nasser (ESZ).