March 26, 2013
|
Sports News
Fight with Nene: the Moroccan Kharja severely punished!
Moutakilou MUMUNI - en.africatopsports.com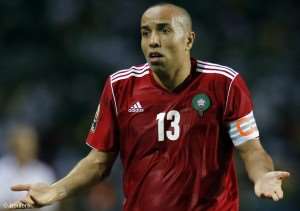 Houssine Kharja can store his crampons. For him, the season is over. This is the result of his fight last week with the Brazilian Nene , at a Qatari championship game.
The Moroccan midfielder scoops 10 games penalty plus a fine of 78,000 euros . Suddenly, the old Milanese replay most of the season with his club Al Arabi.
Nene who apologized after the fight for his share scoops nine-game suspension and a fine of 67,000 euros . Not sure that both players will take these attitudes again.