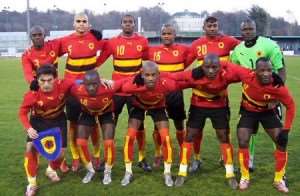 In less than 48 hours to the match Senegal-Angola accounting for the playoffs of the FIFA World Cup 2014, we note four absences in the ranks of the Palanca Negra.
This is about the midfielders, Pirolito and Vado , the eccentric Djalma Campos and the striker Guilherme Afonso . The four players are victims of injury .
According to Seneweb.com if both midfielders Vado and Pirolito who evolve in the local championship in Angola and are residents of Interclube Luanda, have justified with their wounds, such is not the case of the eccentric Djalma Campos (Kasimpasa-Turkey) and the striker Guilherme Afonso (FC Vaduz Lichtenstein), both expatriates.
At the Senegalese side, the French coach, Alain Giresse has put a controversial term to the scorching heat that exists currently in Conakry. "The heat is valid for both teams. It will be hot for everyone. This heat will not only be felt by my players. Angolan players will also experience the same thing. So it is not a question of focusing on this aspect, " he said.
List of the 20 Angolan players
Goalkeepers : Hugo (1 º de Agosto), Jota B (Petro de Luanda) Lando (Recreativo do Libolo);
Defenders : Bastos, Miguel, Mabina (Petro), Dany Massunguna (1 º de Agosto) Gomito (Libolo) Vado (ASA) Fabrício (Interclube);
Midfielders : Amaro, Mingo Bille (1 º de Agosto), Manual (ASA), Job (Petro) Geraldo (Paraná do Brasil)
Forwards: Vado (Libolo) Yano, Ito (Progresso), Manucho Gonçalves (Valladolid Espanha) Mateus Galiano (Nacional da Madeira in Portugal).