Yaya Touré : "I want a new Man City deal or I'm off"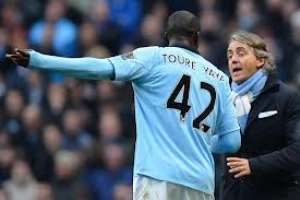 The former Barcelona ace, and Ivorian midfielder is fuming that talks over a new deal have stalled for SIX months.
And Toure's agent, Dimitri Seluk, last night admitted: 'If he signs a contract in the next three or four days, OK. If not, we will not wait any longer and will start negotiations with different clubs.
Seluk confirmed the 29-year-old's ultimatum, claiming Toure is interested in departing last season's Premier League champions.
"Today is Tuesday, so it means by Saturday. We will say 'Thank you. Okay, Yaya will leave in May."
"I do not feel he will stay at City. This is not about money. He wants to leave because of many reasons. He is one of the best players at Manchester City but does not feel the respect of the staff. Only Roberto Mancini respects Yaya."
It is claimed Toure currently earns £220,000 a week, but the former Barcelona man is not seeking a pay rise, according to Seluk.
Currently away with the Cote d'Ivoire to play in a World Cup qualifier against Gambia on Saturday, Toure is demanding the "small details" of his new contract be ironed out.
Seluk added: "It's all strange. It's not normal to have negotiations for six months about a contract. They have been talking about small details all this time.
"Maybe if the owner speaks to Yaya, maybe he doesn't know the details."