Steubenville High School football players found guilty of raping 16-year-old girl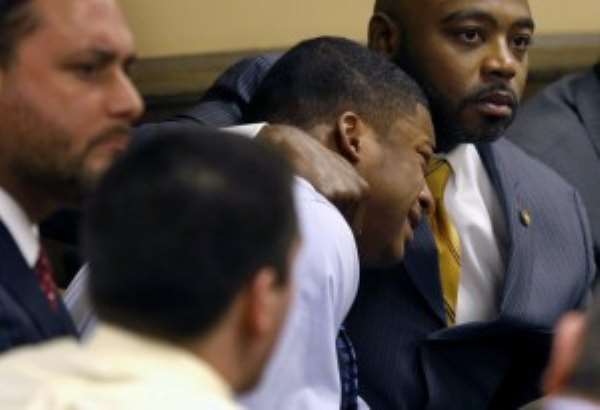 Inside a small Steubenville, Ohio, courtroom filled with sobbing and exhausting emotion, Judge Thomas Lipps found Trent Mays and Ma'lik Richmond guilty Sunday of raping an intoxicated 16-year-old Western Virginia girl.
Lipps sentenced both defendants to a minimum of one year in a youth correctional institute with the determination for a longer sentence coming from child-service experts.
Mays received an additional year for transmission of nude photos, to be served after his rape sentence is completed.
Mays and Richmond also will have to register as sex offenders for the rest of their lives.
"It provides a great incentive to do well, " said Lipps, who could have ordered Mays and Richmond to remain behind bars until they turned 21.
Mays, 17, and Richmond, 16, both wept, at times uncontrollably, as the verdict was announced. Mays buried his head in a handkerchief as defense attorneys rubbed his back. He later hugged his parents goodbye.
Richmond was able to stand and approach the victim's family and deliver a tearful apology before breaking down into the arms of court manager Fred Adballa Jr.
"I'm sorry," Richmond said through gasps and cries, "for putting you guys through this. I'm sorry."
Later, Richmond's biological father, Nathaniel, also addressed the court and the victim's family, placing some of the blame for his son's actions on his own life troubles and being an absentee father.
"Everyone knows I wasn't there for my son," Nathaniel Richmond said. "I feel responsible for his actions. I feel highly responsible for his actions"